ASBISc Enterprises Plc, a leading Value Add Distributor, developer, and provider of ICT, IoT, Robotic products, solutions, and services to the markets of Europe, the Middle East, and Africa (EMEA), and producer of brands of smart home appliances AENO and AENO Premium Eco Smart Heater, celebrates AENO Premium Eco Smart Heater gaining the prestigious Red Dot Award 2023 in two categories.
AENO Premium Eco Smart Heater is honoured with the prestigious Red Dot Award: Product Design in two categories – Heating and Air Conditioning Technology and Smart Product for outstanding design, high quality and innovation in the field of home heating.
AENO Premium Eco Smart Heater is a cutting-edge heater that combines energy-efficient heating with advanced connectivity features. Equipped with Wi-Fi and Bluetooth connectivity, the device can be easily controlled via a mobile app, allowing users to set schedules, adjust temperatures, and monitor energy usage in real-time.
"We are delighted to receive this outstanding recognition from the Red Dot jury," said Sergei Kostevitch, CEO of ASBIS. – "Our goal has always been to offer elegant design and smart and sustainable solutions that combine cutting-edge technology. The AENO Premium Eco Smart Heater is a true game-changer in the heating market, offering consumers a stylish, efficient, and environmentally-friendly alternative to traditional heaters. This award is a testament to the hard work and dedication of our team, and we are excited to continue pushing the boundaries of what is possible in heating. We are proud of AENO to bring this innovative product to our customers."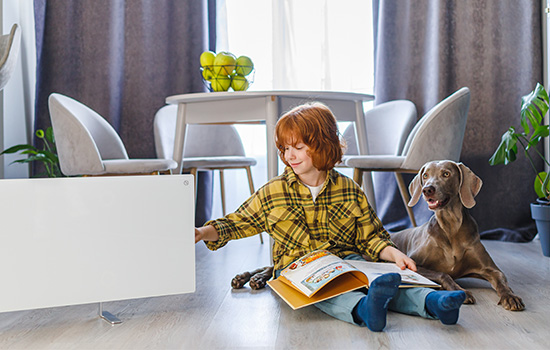 The Red Dot Design Award is the most prestigious design competition in the world, with a panel of international experts evaluating thousands of entries based on criteria such as innovation, functionality, and aesthetics. Winning the award is a testament to AENO commitment to excellence and innovation in the field of home heating.
AENO responds to strong demand from interior designers and consumers for inconspicuous design and built-in home appliances, or, in other words, the application of minimalistic approach. The minimalist design fits into any interior, thanks to the ultra-thin panel (less 11 mm) and natural materials. The ultra-thin tempered glass panel can be invisible or the main accent in the interior of a room. The user could install in any way convenient for him and fit into his interior: on the floor, on the wall or under the ceiling. There is only one button on the heater, which makes the panel so minimalistic. All smart control options are available from the mobile app. The heater looks great from any vantage point!
"We are thrilled to receive this recognition for the AENO Premium Eco Smart Heater," said Serhii Fedorenko, product designer of the awarded AENO Premium Eco Smart heater. – The inspiration for the new smart design heater came from the needs of the market and the customers. There was demand for simple yet elegant design that can easily become part of the interior of any apartment, office or house. Premium Eco Smart Heater AENO combines smart functionality, energy-saving heating technology and minimalist forms".
The AENO Premium Eco Smart Heater is available for purchase in more than 20 countries around Europe in retail, DIY and via ASBIS distribution network. ASBIS is a leading distributor and manufacturer of IT and consumer electronics products in the EMEA region.
With its innovative design, energy-efficient performance, and advanced connectivity features, the AENO Premium Eco Smart Heater is set to improve the home heating market and provide consumers with a smarter, more sustainable way to heat their homes.
About AENO & AENO Premium Eco Smart Heater
AENO is a young and dynamic brand of smart home appliances, created by an international team of highly qualified engineers. AENO cares about customers and strives to constantly improve the functionality of products and expand the possibilities. To increase value and quality, optimize logistics delivery routes for retail chains and end users, the production line for the manufacture of the premium eco smart heater is operating in Europe, in Poland. AENO is part of the brand portfolio of ASBIS Enterprises PLC, a leading distributor of IT products in the EMEA region, for distribution.
The project to develop a smart heater started in 2020. The international team of engineers from Ukraine and Poland worked on the creation of the model. The device is manufactured at a modern production facility in Poland, starting in May 2022. In September 2022, the launch of the product on the European market was announced. Premium Eco Smart Heater AENO was presented at the trade show for consumer electronics and home appliances IFA Berlin – 2022. The model is available for purchase in 23 countries: Germany, Switzerland, UK, Czech Republic, Poland, Baltic countries, Hungary, Croatia, Romania, Bulgaria and many more.
AENO's mission is to make smart technologies more accessible, taking on an everyday routine and lessening the burden of housework. The product family includes: air purifiers, humidifiers, smart heaters, robot vacuum cleaners, stick vacuum cleaners, steam mops, garment steamers, kettles, electric grills, blenders, electric ovens, Sous-Vide, vacuum sealers, electric toothbrushes and irrigators, etc.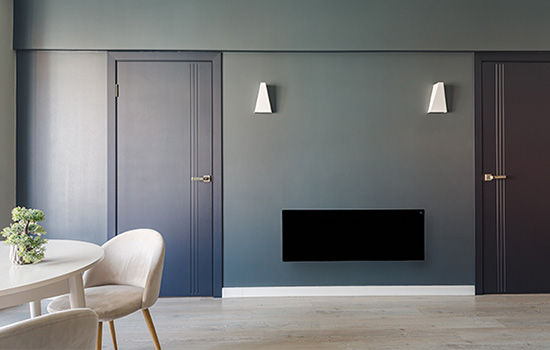 About Red Dot Awards
The Red Dot Design Award is one of the biggest design competitions in the world, receiving approximately 20,000 entries per year in three disciplines: Product Design, Brands & Communication Design, Design Concept. Since 1995, the best products of every year have been honoured with the Red Dot Award: Product Design.
In 2023, products were submitted and evaluated in 51 competition categories. This year, the entries came from 60 countries. A jury of 43 members came together to do so. They reached their verdict on which of the product design entries met the criteria for a Red Dot award or a Red Dot: Best of the Best on the basis of the four principles of good design and by taking into account their socio-cultural character, specific technical focus area and design expertise.
The annual award ceremony will take place on June 19 at the Red Dot Design Museum here in Essen, Germany.