BUY ONLINE
Available for order
at the middle of
August 2011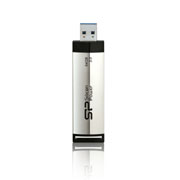 Leading memory storage brand SP-Silicon Power introduces its highest read/write speed USB 3.0 flash drive to date, the Marvel M60.
The product hits a new milestone among SP USB 3.0 flash drive series by giving a read capability of up to 100/MB/sec. Encased in a uniquely designed, metallic exterior, the Marvel M60 is the consumer's choice, both inside and out!
The USB 3.0 Speed Evolution: Super High Transfer Efficiency
SP devotes itself developing USB 3.0 products in line with market demands for transfer efficiency. With one of the highest efficiency USB 3.0 interfaces out there, the Marvel M60 offers a maximum read speed of 100 MB/sec, and a maximum write speed of 70MB/sec. In this multimedia age, it's the ultimate information sharing tool!
Compact Lidless Design, Cool Metallic Exterior
With its sleek lidless design and retractable USB connector, the Marvel M60 is compact and convenient to carry around. In addition, an LED indicator light displays power on and data transfer status, and the cool metallic exterior caters to the unique tastes of consumers!
Lifetime Warranty; SP Widget Ensures Data Security
The Marvel M60 comes in a choice of either 32GB or 64GB storage capacity. Every SP flash drive product comes with a lifetime warranty, as well as SP Widget application software, providing 7 major back up and security tools. A 60 day free trial of Norton Antivirus 2011 is also provided, to further ensure value-added services in security and convenience to the consumers. For more information, please see the SP-Silicon Power website: www.silicon-power.com
Product Features
Data transfer rate:
– read speed of 100MB/sec (USB3.0 mode); 30MB/sec (USB2.0 mode)
– write speed of 70MB/sec (USB3.0 mode); 20MB/sec (USB2.0 mode)
USB 3.0 interface, backward compatible with USB 2.0 and 1.1 devices
Electro-plated metallic exterior
Lidless design, retractable USB connector
Usable on plugging in, no additional power source required
LED indicator light, displaying operating status
Free download SP Widget, providing 7major back-up and security tools
Product Specification
Dimensions: 73mm x 22mm x 9mm
Weight: 15g
Interface: compatible with USB 3.0, 2.0 and 1.1
Support OS: Windows XP/Vista/7, Mac OS 10.3.x, Linux 2.6.x
Durability: 10,000 insertion/removal cycles
Operating temperature: 0° C – 70° C
Color: Silver
Lifetime Warranty
Related news about Silicon Power products