With the ever-increasing popularity of low-priced compact notebooks and lightweight portable devices, the demand for solid-state disks (SSD) is greater than ever. Transcend is poised at the forefront of this new solid-state revolution, offering a full range of SSD products. Compared to traditional hard drives, SSDs are made of solid-state NAND flash memory with no moving parts, and are therefore not susceptible to mechanical failure resulting from vibration, sudden impact or power loss, heat, and other common factors that often cause irrecoverable data loss in portable devices that use regular hard drives.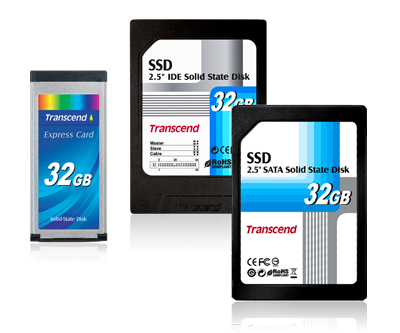 Transcend's Solid State Disk product line includes notebook-sized 2.5-inch SATA / IDE as well as ExpressCard/34 format SSDs, all fitted with a tough but extremely lightweight case, enormous capacities (up to 32GB), high reliability, very low power consumption and incredible resistance to shock and vibration.
These features make them ideal drop-in replacements for conventional hard disk drives in both industrial and portable devices like ultra compact notebooks that require long battery life and must be durable enough to withstand a few bumps and scratches.
Due to their standard form factor and industry standard IDE or SATA interface, Transcend's SSDs can be used in most notebook computers and mainstream PCs just like regular hard drives.
As for data transfer rates, Transcend's SSDs deliver sustained read / write speeds of up to 30MB / 28MB per second*, which guarantee fast throughput no matter how big the file size is. Combine that with amazing latency of under 1ms, and it becomes clear why Transcend SSDs give users an overall more enjoyable, lag-free computing experience – especially with Windows Vista.
In addition, Transcend's SSDs have built-in ECC (Error Correction Code) that ensures highly reliable data transfer and increases your system's overall integrity. Advanced wear-leveling technology also guarantees ultra-long lifespan and data-retention durability for prolonged use, giving Transcend's SSD over twice the lifespan of normal hard drives. With no moving parts, absolutely no noise is generated from these drives, and much less power is needed for operation, which also means less heat is produced. For extra peace of mind, Transcend's SSDs are also backed by a two-year warranty. To meet the fast-growing needs of the burgeoning market for high speed, lightweight low-power solid state disks, Transcend plans to release its competitively priced 64GB and larger capacity SSDs in the very near future.

*Maximum sustained read/write transfer rate for Transcend 16GB & 8GB 2.5" SATA SSD is 30MB / 28MB per second. Other models may vary - please refer to the following link for detailed product specifications. http://www.transcendusa.com/Products/Catlist.asp?FldNo=21