BUY ONLINE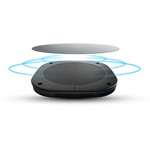 ReVolt A3
The invisible wireless charging station is a convenient and practical accessory for the owners of cafes, bars, sports clubs, and hotels. People spend more time in facilities so they can charge their gadgets, which is why the availability of a wireless charger can often increase the average customer's bill. This is a great reason to use the ReVolt A2 and ReVolt A3 in a customer-oriented business.
The difference between the models lies in their characteristics. The ReVolt A2 charges at a power of 5W and ReVolt A3 gives out a power of 10W, which allows you to recharge the battery of your favourite gadgets quickly. The ReVolt A3 runs faster, which is a perfect solution for those who are always busy and active and have minute-by-minute planning of their daily routines. Both charging stations can be installed under any non-metallic surface, up to 35mm thick for ReVolt A3, and up to 40 mm thick for ReVolt A2.
The charging station is a must-have for any organisation where people get to socialise, work, relax, or just have a good time. This practical and functional device will be the perfect solution for any interior, and due to its hidden design, the station is completely invisible.
Invisible charging stations from Prestigio can be installed under any non-metal countertop: the installation method is quick, easy, and effortless, and the surface can be made of glass, plastic, wood, or even granite.
You do not need to think about the safety of the device because it is securely attached. The customer can charge the gadget by simply placing it on the table with the connected charging station.
However, the main advantage of such a wireless station is its convenience. You can forget about the ever-confusing and tangling wires for each separate gadget, which have to be inserted into the connectors. The ReVolt A2 and ReVolt A3 provide a simple way for visitors to power up their smartphone from a table equipped with a built-in wireless station.
The ReVolt A2 and A3 line is compatible with all devices that support wireless charging. They can charge not only your smartphone, but also your smartwatch, headphones, or tablet.The flexibility of wireless charging will be appreciated by your visitors. Such a station, functioning according to international Qi standard, makes it easy to place the gadget on the countertop and not have to worry that you have left your charger at home. In addition, the users will be able to simultaneously use their device as usual; typing messages, viewing the feed in social networks, and reading news sites.
The multi-level security system, which complies with international standards, guarantees stable and safe gadget charging.
About Prestigio
Prestigio is an international brand that has been offering a wide range of consumer electronics for home, education, and business for more than 15 years. The company sells products in 30 countries around the world, with over 25 million devices sold during its history.
The brand's products include smart devices and accessories, innovative solutions for business and education. Prestigio introduced the world's first interactive keyboard with touchpad on keys, as well as smart speakers, portable acoustic systems, hidden wireless chargers, graphene-based power banks, and this is just the beginning. The company's slogan for launching new products is 'The art of hi-tech', as special attention is paid to innovation, high-quality premium materials, and modern technology.
The Prestigio brand is owned by ASBISC Enterprises Plc., one of the leading IT product distributors in the EMEA markets. It has production, design, and technical facilities in Europe, China, and Belarus. Prestigio has offices in 15 countries in various regions, including the CIS, Ukraine, Europe, Middle East, and Africa.