WinFast VP200 zero client, designed for virtual desktops, offers a complete desktop experience for even the most advanced end user.
It provides a rich multi-media experience, supporting CAD/CAM, video animation, 3D graphics and more. It is independent of any operating system providing enhanced security and allowing for easy implementation and management.
Reduce IT Costs, Increase Security and Improve Efficiency
Operating System Independent
No Moving Parts
Driverless and stateless
Rich multi-media experience for even the most advanced end user
Energy Efficient
Optional VESA mount for mounting on the back of a monitor
Secure and risk-free from viruses
Support for graphic intensive applications including CAD/CAM, video animation , 3D graphics and more
Four USB peripherals
HD audio, headphone and microphone
VMware Ready™ Certification
Dual monitors up to 1920 X 1200
Centralized management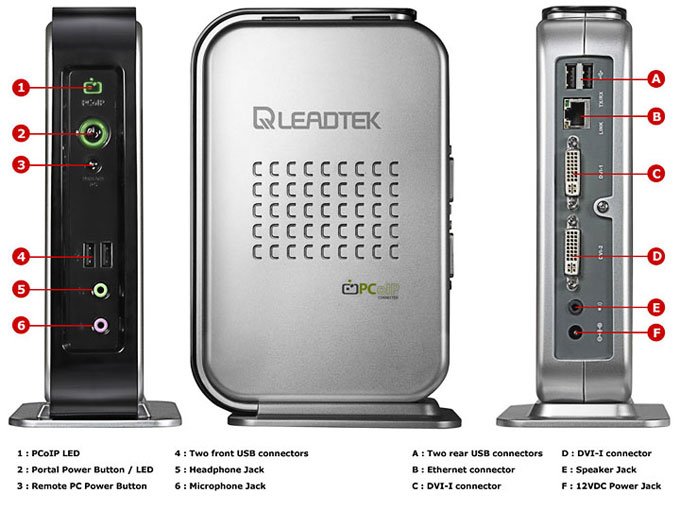 WinFast VP200 zero client is remote graphics product that enables 3D workstation graphics transfer via IP network, current KVM and thin clients are weak in supporting 3D graphics.
WinFast VP200 zero client solution includes - WinFast VP200 H (PC-side hardware host card optionally for remote processing acceleration), and WinFast VP200 P (desktop portal).
Highlight
True PC experience
Size of a book
Go green with noiseless cooling and low power consumption
Completely driverless and stateless
Dual DVI-I monitors support, up to 1920x1200
Four USB peripherals
Centralized management by connection broker
Support 128bit AES, transfer data securely between host and portal
VMware Ready™ certified
Zero client - No CPU, HDD, OS But high security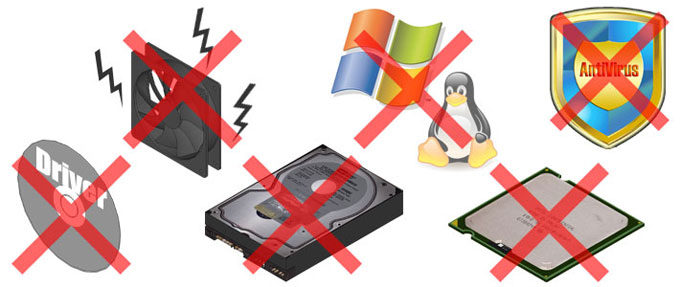 Dual DVI-I support, up to 1920x1200


Features
The WinFast VP200 P Portal device is a small, simple, stateless access device under any usage scenario. It receives and decodes these signals from the WinFast VP200 H PCoIP® Host card to create standard PC interfaces for the display, USB peripherals, and audio. The VP200 P Portal also supports a reverse communication path for items like USB keyboards, mice, microphone, audio, and other peripherals. The WinFast VP200 P PCoIP® Portal device offers functions such as:
Perception-Free Remote GUI
By interfacing at the physical layer, and using specialized encoding algorithms running on a high-performance multi-core processing engine, the PCoIP® system provides a perception-free remote GUI that is completely independent of any operating system. This enables all of a PC's active components to be centralized for better management and security while ensures that the user maintains a 100% full, rich PC experience.
Image Processing Technology
Encodes digital video input in real time and is capable of dynamically adjusting the compression to the available network bandwidth. Optimizes compression algorithms and quality in real time to achieve the best possible image quality for the available network bandwidth, thus allowing the PCoIP® system to operate in various types of networks and data rates
Security and Authentication
100% of desktop computing can be moved into a secure location including existing PC and workstation form factors. Mutual certificate-based device authentication secure sensitive information and valuable research and development data for government, financial, DCC/CAD/CAM design, healthcare, and entertainment customers.

VMware Ready™ Certification
WinFast VP200 P is VMware View certified to offer a superior user experience and maximum Return On Investment (ROI) to enterprises deploying virtualized desktops with VMware View. The extensive testing ensures hardware compatibility in VMware environments and provide customers with an optimal VDI solution.
Specification
Chip
PCoIP® Portal Processor
Device Physical Dimensions
8.268 inches (height) x 5.327 inches (length) x 1.811 inches (thinness) without stand
Memory type
2pcs 512 MB 16-bit 3.2Gbit/s XDR SDRAM (1GB in total)
Maximum device power
15.36 W
Device Bandwidth Limit
1 to 220 Mbps
Connectors

Single-link DVI-I connector
Second Single-link DVI-I connector
Two front USB connectors
Two rear USB connectors
Headphone jack
Microphone jack
Speaker jack
Ethernet connector
12VDC Power jack

LED
PCoIP® LED
Portal Power Button LED
Button
Portal Power Button
Remote PC Power Button
Thermal cooling solution
Passive heat sink
Operating System Support (Completely operating system independent)
Windows® 2000 / XP / Vista / 7
Linux
Mac
System Requirements
A DVI or VGA compatible monitor
Ethernet LAN switch or router (10/100/1000 Mbps)
USB keyboard and mouse
Optional: PC speakers and other USB peripherals
Package Content
WinFast VP200 P PCoIP® Portal device
Power Adaptor and power cord
Ethernet cable x 1
Quick installation guide
Documentation disc
VESA mount package (Optional)
Related news about Leadtek products