Larger Capacity Cards Offer More Flexibility to Expand Digital Content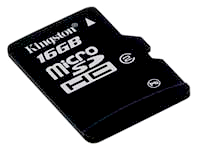 Kingston Digital, Inc., the Flash memory affiliate of Kingston Technology Company, Inc., today announced it is releasing a 16GB microSDHC Flash memory card for use in mobile phones. The larger capacity card offers greater storage options for the latest mobile phones and other digital devices and joins the microSDHC card family which includes the 4- and 8GB products.
"The increased functionality of the latest mobile phones has helped fuel and raise consumers' appetites for more digital content," said Wendy Lecot, Flash business development manager, Kingston Digital. "Today's mobile lifestyle includes using phones as portable media players and as a camera. The Kingston® 16GB microSDHC card removes the barrier of limited internal handset or device memory and allows users to store more photos, songs, games and videos."
Kingston 16GB microSDHC cards can store more than 3,000 digital songs*, over 9,000 images from a 5MP cameraphone**, or up to 16 hours of video***, offering the most convenient means to store, move and play digital content via a handset's storage slot. Newer handset models from manufacturers such as LG, Motorola, Nokia, RIM and Sony Ericsson support 16GB external storage.
The Kingston 16GB microSDHC card (Kingston part #: SDC2/16GB) has a suggested price of $90.00 (MSRP U.S.). Although the microSDHC card format is identical in physical size to the original microSD card, microSDHC is compatible with microSDHC host devices and not backward compatible with standard microSD-enabled devices or readers.
16GB microSDHC Features/Benefits
Compliant: with the SD Specification Version 2.00
Versatile: when combined with the adapter, can be used as full-size SDHC card
Compatible: with microSDHC-enabled devices/readers only
File Format: FAT 32
Reliable: lifetime warranty
16GB microSDHC Specifications
Capacity†: 16GB
Dimensions: 0.43" x 0.59" x 0.039" ( 11mm x 15mm x 1mm)
High-Speed Class Rating: Class 2: 2MB/sec. minimum sustained data transfer rate
Operating Temperature: -13°F to 185°F (-25°C to 85°C)
Storage Temperature: -40°F to 185°F (-40°C to 85°C)
Weight: 0.05 oz (1.4g)


Buy Kingston 16GB microSDHC cards at ASBIS B2B e-Shop
* Approximate number of songs. Assumes 4MB file size. Results may vary based upon compression rates and devices used.
** Approximate number of standard JPEG pictures. Assumes 5MP file size. JPEG file sizes vary based upon camera model and default settings, as well as user-selected resolution and compression mode settings. Some host devices may not support all of the Flash storage capacities listed.
*** Approximate minutes of video clips. Assumes MPEG1 format, 1.5Mbps file size. Results may vary based upon video compression rate.
† Please note: Some of the listed capacity is used for formatting and other functions and thus is not available for data storage. For more information, please consult Kingston's Flash Memory Guide at Kingston.com/Flash_Memory_Guide.
Recent Kingston News
About Kingston Digital, Inc.
Kingston Digital, Inc. ("KDI") is the Flash memory affiliate of Kingston Technology Company, Inc., the world's largest independent manufacturer of memory products. Established in 2008, KDI is headquartered in Fountain Valley, California, USA. For more information, please visit www.kingston.com or call 800-337-8410.