Solid state disc technology widens it's market share as numerous vendors offered cheaper and more powerful models this month. Find out about new models from Transcend, Kingston, Patriot and PQI
About SSD
A solid-state drives (SSD) is a new generation of data storage devices that could replace traditional hard disc drives (HDD). With no moving parts, solid-state drives are less fragile than hard disks and are also silent (unless a cooling fan is used). They usually enjoy low access time and latency as there are no mechanical delays. Although SSDs at the moment are more expensive than HDDs, solid-states offer better long-term value for notebooks due to higher reliability of data storage and lower power consumption.
There are two types of SSD: flash based and DRAM based. Flash based SSD do not require batteries but are slower than DRAM (although faster than HDD). That makes flash based SSDs better suitable for notebooks and DRAM SSDs – for desktops (they often used for extending RAM beyond system capacity).
Transcend 1.8" eSATA / USB SSD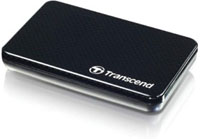 Combining the speed and durability advantages solid-state technology with the versatility of eSATA and USB connection interfaces, Transcend's SSD18M is an innovative new type of storage device that offers fashionable good looks and high-capacity mobile storage convenience. With both eSATA and USB2.0 interface options, this portable SSD features the ultimate in connection flexibility, offering guaranteed speed along with multi-platform compatibility. Its new high-speed eSATA interface provides a maximum read speed of 90MB/s and write speeds of 50MB/s, while its USB2.0 interface assures maximum compatibility with all types of notebook and desktop PCs.
Aside from its high-speed performance and solid-state durability, the Transcend SSD18M's chic gloss diamond pattern fascia also distinguishes it as a genuinely fashionable device. Measuring only 80mm x 50mm x 12.5mm and weighing just 50g, the SSD18M provides ultra-portable convenience, with a shape that fits perfectly in a pocket, briefcase or purse. Combining portability, speed and reliability inside an extremely elegant exterior, the SSD18M is the perfect choice for storing essential files either at home or when traveling. Now available in 32GB, 64GB and 128GB capacities, Transcend's 1.8" portable solid state drives are backed by a two-year warranty and the support of a comprehensive global service network.
Earlier Transcend launched SSD25 2,5" solid-state discs with IDE and SATA interfaces and capacity 16-128 MB.
Kingston SSDNow E and M series

Both series are flash based and 2,5". The SSDNow E Series is designed for the enterprise server environment while the SSDNow M Series is built for the road warrior who demands ultimate performance from a notebook PC. The Kingston SSDNow E and M Series use Intel's solid-state drives, which are the best-performing drives on the market.
SSDNow E and M Series drives are equipped with S.M.A.R.T (Self-Monitoring, Analysis and Reporting Technology) to monitor the integrity and reliability of the drives. The drives are backed by a three-year warranty, 24/7 tech support and KingstonCare*, a comprehensive suite of tools and services designed to reduce downtime.
E Series specifications: capacity – 32GB; speed – 250MB/sec. read, 170MB/sec. write; dimensions – 69.85mm x 100mm x 7mm. M Series specifications: capacity – 80GB. Speed 250MB/sec. read, 70MB/sec. write, dimensions – 69.85mm x 100mm x 9.5mm.
Patriot Warp v3 SSD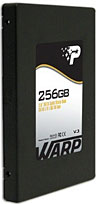 Patriot Patriot updated Warp SSD family with flash based 256GB Warp SSD v3, that offers read speeds up to 240MB/sec and write speed up to 160MB/sec. dimensions of the new disc are 99.88 x 69.63x 9.3 mm (2.5" form factor). Interface: SATA I/II.
"Our new 256GB Warp SSD v3 now gives the consumer the fastest data-transfer rates plus all the storage space large enough to quench their multimedia thirst," says Meng Jay, Flash Product Manager for Patriot Memory. "It wasn't long ago that SSD's maxed out at 64GB with read speeds of 130MB/s, now with the Warp v3 we literally 'Warp' into capacities that most consumers demand and speeds far faster than current conventional hard drives.
PQI ExpressCard SSD S520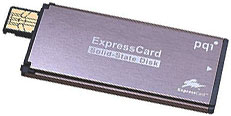 PQI extended ExpressCard SSD family with new model SSD S520. Available with 8GB ~ 32GB of storage space, 88MB/sec read speed and 48MB/sec write speed, it is the fastest ExpressCard SSD currently on the market. As an advantage over current ExpressCard offerings on the market, S520 also has PQI's patented Intelligent Stick interface (compatible with USB 2.0) for users wanting to use it as a USB flash drive. It also supports Windows Vista's ReadyBoost technology.
Moreover, PQI's ExpressCard SSD S520 has acquired the rare "hot swappable compatible" certificate, where most other ExpressCards have not! The plug and play compatibility is signified by a rabbit logo. Compact (175 x34 x 5 mm) and ruggedly constructed for esthetic looks, its stainless steel casing is hairline treated and polished in metallic grey.
PQI SSD S525, presented earlier, provides 32GB~128GB of storage in 100.5 x 69.85 x 7.9 mm case (2.5" form factor), features SATA I/II interface with speed of read 154.1 MB/s and write 90.8 MB/s.
All products are available for ordering across the region of Europe, Middle East, and Africa