GoFlex Satellite™ Mobile Wireless Storage expands the Media Capacity without wires or the web.

Seagate announced GoFlex Satellite™ mobile wireless storage, the first battery-powered external hard drive to wirelessly extend the storage capacity of any Wi-Fi enabled mobile device. With 500GB and Wi-Fi access over 802.11 b/g/n and a rechargeable battery, this latest member of the GoFlex family provides the ability to carry an entire library of video, music, pictures and documents with you. Devices are wirelessly connected directly to the GoFlex Satellite drive by use of the free GoFlex Media™ app–available now on iTunes and the Apple App Store–or a web browser. Global availability is planned for later this summer.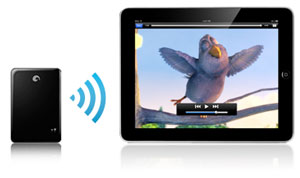 More info about GoFlex Satellite™ Mobile Wireless Storage.

Related news about Seagate products