BUY ONLINE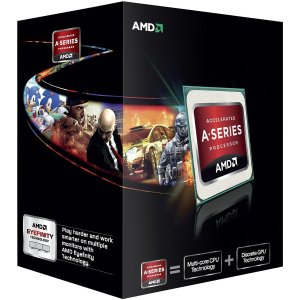 Check out AMD's most advanced APU technology – so revolutionary, it challenges the very definition of a processor with up to 12 Compute Cores (4 CPU + 8 GPU) and innovative Graphics Core Next (GCN) Architecture.1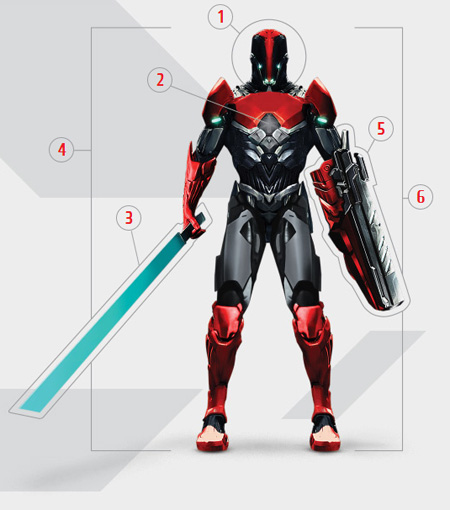 1. AMD TrueAudio Technology
CORE's helmet utilizes AMD TrueAudio technology – featuring immersive 32-channel surround audio to hear applications from all angles. With impressive audio realism and more accurate voice recognition, applications don't stand a chance.3
www.amd.com/trueaudio
2. HSA Armor
CORE's armor uses Heterogeneous System Architecture (HSA) to guard against resource-intense applications so he can efficiently work through the most challenging tasks. Learn more about how HSA can accelerate your system:
www.amd.com/hsa
3. Frequency Blade
CORE's frequency blade has AMD Turbo Core technology which unleashes the resources you need to slash through applications. Black Edition products are unlocked to push the limits of performance. Learn more about the evolution of AMD APUs:
www.amd.com/aseriesapu
4. Compute CORE
The revolutionary AMD A-Series APU includes up to 12 Compute Cores (4 CPU + 8 GPU). This unique architecture allows the CPU and GPU cores to work in perfect harmony – the ideal balance to combat today's modern applications.
www.amd.com/ComputeCores
5. GCN Cannon
CORE's cannon features Graphics Core Next (GCN) Architecture – the latest in graphics technology from AMD. Not only does it give him the power to blow away gaming workloads, but also the advanced features to engage today's modern applications.1 Add GCN Architecture to your arsenal:
www.amd.com/gcn
6. Power of Mantle
CORE calls on the power of this groundbreaking API for impressive, hyper – efficient performance against some of the most advanced games. Applications developed with Mantle are virtually defenseless against AMD hardware.2
www.amd.com/mantle
PCMark 8 v2.0 Home Benchmark: Higher is better


1. The GCN Architecture and its associated features (AMD Enduro™, AMD ZeroCore Power technology, DDM Audio, and 28nm production) are exclusive to the AMD Radeon™ HD 7700M, HD 7800M and HD 7900M Series Graphics and select AMD A-Series APUs. Not all technologies are supported in all system configurations – check with your system manufacturer for specific model capabilities.
2. Mantle application support is required.
3. AMD TrueAudio Technology is offered by select AMD Radeon™ R9 and R7 200 Series GPUs and select AMD A-Series APUs and is designed to improve acoustic realism. Requires enabled game or application. Not all audio equipment supports all audio effects; additional audio equipment may be required for some audio effects. Not all products feature all technologies – check with your component or system manufacturer for specific capabilities.