BUY ONLINE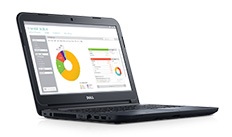 New products include: the Latitude 7000 Series 2-in-1 detachable laptop; the Latitude 3000 and 5000 Series laptops; OptiPlex 9020 and 3020 Micro desktop PCs; Dell UltraSharp 27 Ultra HD 5K and Dell 55 Monitors.
New Latitude portfolio enables secure and manageable productivity for every workforce
OptiPlex Micro offers space-saving design in Dell's smallest, most versatile desktop form factor
Dell new industry-leading monitors deliver stunning visual clarity
"Dell understands the complexity of supporting the wide variety of devices present in today's evolving workforce environment," said Kirk Schell, vice president and general manager, commercial client solutions, Dell. "Our new portfolio enables businesses of all sizes to embrace sleek and innovative form factors their workforce will be proud to use day after day to accomplish their productivity goals. While they look like thin and light consumer devices, these commercial PCs are backed by the industry's best security and manageability that only Dell provides."
New Latitudes Enable Productivity Anytime, Anywhere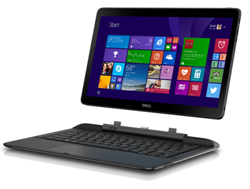 Dell's new additions to the Latitude family of commercial PCs offer a variety of work styles and use cases—from the executive road warrior to the rough and tumble demands of workers in the field. The new Latitude 13 7000 Series is the world's most secure 2-in-1, combining a lightweight business Ultrabook™ and a detachable tablet in one powerful device without compromise. This "laptop-first" 2-in-1 offers a large 13.3-inch display and a professional, ISO-certified backlit keyboard, bolstered by the convenience of Instant Go from sleep mode, a feature often reserved for smart phones and traditional tablets. When paired with the Dell Mobile Office, a suite of accessories specifically designed for this device—a carrying case, sleeve, power companion and universal dongle—the Latitude 13 7000 Series 2-in-1 detachable laptop offers ultra-mobile professionals a first-class productivity experience.

Latitude 13 7000 Series 2-in-1 - Click here to view the full spec sheet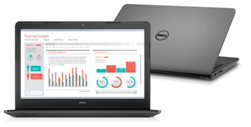 Designed to meet the needs and budget of small and growing businesses, the new Latitude 14 and 15 3000 Series offer the essential features of a business-class laptop with the right balance of mobility, productivity and affordability. Thinner and lighter than previous generations and backed by enterprise-class support, the new 3000 Series boasts all-day battery life, a spill resistant keyboard, up to 1 terabyte of storage and 14-inch or 15-inch displays with touch options.
Latitude 14 3000 Series - Click here to view the full spec sheet
Latitude 15 3000 Series - Click here to view the full spec sheet
OptiPlex Micro: Out of Sight Power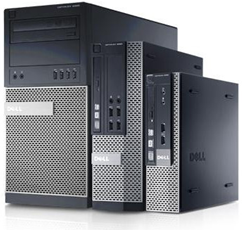 Performance is far and away the most important aspect employees seek in a work device and desktop PCs are still popular among employees of all company sizes. With a chassis design of only 1.2 liters, 67% smaller than Dell's smallest desktop form factor, and with five different mounting options, the new OptiPlex 9020 and 3020 Micro PCs provide the power employees expect in a desktop that answers the needs of smaller – or more specialized – working spaces. The most secure and manageable desktop on the market, OptiPlex 9020 Micro is ideal for environments where space is limited and security is a priority, while the OptiPlex 3020 Micro provides essential business class performance in a compact unit.
OptiPlex 3020 - Click here to view the full spec sheet
OptiPlex 9020 - Click here to view the full spec sheet
Industry-leading Dell monitors deliver stunning visual clarity
Dell's class-leading suite of monitors allows businesses to better customize solutions to suit their working needs. The new Dell 55 Monitor has a 55-inch widescreen display that delivers Full HD resolution and a 3000:1 contrast, providing exceptional clarity for presentations, schematics and video calls. An alternative to the traditional projectors and TVs used in meeting rooms and the perfect complement to the Dell Chromebox for meetings, the Dell 55 Monitor quickly and automatically adjusts to match the PC's resolution, ensuring that meeting attendees enjoy a hassle-free, full screen projection.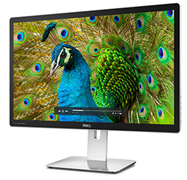 Dell also previewed the groundbreaking Dell UltraSharp 27 Ultra HD 5K Monitor, the world's first display with Ultra HD 5K resolution (5120 x 2880). Ultra HD 5K is equivalent to four times the resolution of QHD and seven times the resolution of Full HD; offering a revolutionary screen performance for professionals requiring the highest resolution available. Dell PremierColor and the anti-smudge / anti-reflective edge-to-edge glass design provide true-to-life color accuracy and pristine picture quality for color-critical work. It also delivers immersive acoustics with two 16W integrated Harman Kardon speakers. To optimize productivity, this highly innovative monitor offers six USB ports and one media card reader to seamlessly connect with a wide range of other peripherals.