Download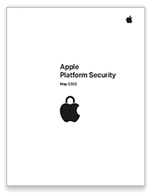 Each Apple device combines hardware, software, and services, created to work together for maximum security and a clear client experience in service of the ultimate goal of keeping personal information safe. For instance, Apple-designed silicon and security hardware powers critical security features. What's more, software protections work to keep the operating framework and third-party applications protected. Ultimately, services provide a method for secure and timely software updates, power a safeguarded app ecosystem, and pave the way for secure communications and payments. Accordingly, Apple devices secure the device and its data as well as the entire ecosystem, including everything users do locally, on networks, and with key internet services.
Hardware security
Secure software requires a foundation of security built into hardware. For this reason, Apple devices — running iOS, iPadOS, macOS, tvOS, or watchOS — have security controls designed into silicon.
System security
System security, built on exceptional capabilities of Apple hardware, is designed to maximize the security of the operating systems on Apple devices with no affecting of usability. System security includes the startup process, software updates, and the ongoing operation of the operating system.
Encryption and Data Protection
Apple devices have encryption features to protect user information and enable remote wipe in the case of device robbery or loss.
App security
Apple gives layers of protection intended to guarantee that applications are free of known malware and haven't been messed with. Other protections help guarantee that access from apps to user data is carefully mediated.
Services security
Apple has built a robust set of services to help users get even more utility and efficiency out of their gadgets. These services include Apple ID, iCloud, Sign in with Apple, Apple Pay, iMessage, FaceTime, and Find My.