BUY ONLINE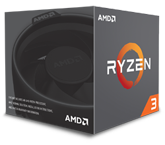 Dive into the world of The Elder Scrolls Online and discover the history that formed the Morrowind we know today. You're taken back to a pivotal time in the legendary island of Vvardenfell's history.

RETURN TO MORROWIND FOR AN EXPERIENCE OF A LIFETIME
The new AMD Ryzen™ 3 processor features AMD SenseMI technology that learns and adapts to provide the best possible experience. So whether you are fighting bandits or crafting gear for your pals, you get true quad-core performance. Choose your quest today!
With AMD Ryzen™ 3 you will be the one to enjoy the wonders of a truly immersive role-playing experience in The Elder Scrolls Online: Morrowind.

THE AMD RYZEN™ 3: A NEXT-GEN PROCESSOR
Get great performance for everything you do.
True quad-core performance
Armed with a new, intelligent architecture, the four physical cores in the AMD Ryzen™ 3 processor provide superior multitasking performance at a great price.
Future-proof platform
The new AM4 platform takes advantage of the leading-edge features of today, and tomorrow.2
Unlocked for Overclocking1
Every Ryzen™ processor is multiplier-unlocked for overclocking. If you're not comfortable tweaking your settings, the XFR feature enables this intelligent hardware to actually boost its own clock rate when it senses a premium processor cooling. 3


1. AMD's product warranty does not cover damages caused by overclocking, even when overclocking is enabled via AMD hardware and/or software. GD-26
2. ​Statement of "future-proof" refers to support of current and upcoming technology standards including 14nm FinFET process technology, DirectX®12 and Vulkan™ API support, new I/O technology including DDR4, USB 3​.1 Gen 2, and NVMe, and experiences such as VR. "Future-proof" statement is not meant to serve as a warranty or indicate that users will never have to upgrade their graphics technology again. Support of current and upcoming technology standards described above has the potential to reduce frequency of CPU upgrades for some users. GD-104.
3. AMD defines premium processor cooling as a combination of ambient temperature and thermal solution that results in processor temperatures below 60 degrees Celsius while the CPU is processing the system workload. WTH-5
The Elder Scrolls Online: Morrowind © 2017 Bethesda Softworks LLC, a ZeniMax Media company. Developed in association with Arkane Studios. Prey, Arkane, Bethesda, Bethesda Softworks, Zenimax and related logos are registered trademarks or trademarks of Zenimax Media Inc. In the U.S. and/or other countries. All Rights Reserved. All other trademarks or trade names are the property of their respective owners.
© 2017, Advanced Micro Devices, Inc. All rights reserved. AMD, and the AMD Arrow logo, Ryzen and combinations thereof, are trademarks of Advanced Micro Devices, Inc.