AMD announced the immediate availability of five new members of the AMD Opteron™ 6100 Series processor family that specifically address rising demand for low-power, balanced systems for SMBs and increased performance-per-dollar-per-watt for enterprise and public sector environments.
Key partners including Acer, Dell and HP are launching new or refreshed AMD Opteron 6000 Series platform-based systems this quarter, powered by these new 12- and 8-core AMD Opteron processors. Simultaneously processors become available for the channel.
"These new server CPUs deliver greater performance than we've ever had before," said Patrick Patla, vice president and general manager, Server Business, AMD. "When we launched the AMD Opteron 6000 Series platforms last year, we eliminated the '4P tax' and met market demands for higher performance-per-dollar-per-watt. Our customers' benchmarks and testimonials bear out these improvements, and these five new parts—and the rave reviews—prove that we continue to deliver on our vision."
| | | | |
| --- | --- | --- | --- |
| AMD Opteron 61xx processor | ACP | Frequency | Cores |
| 6132 HE | 65 | 2.2GHz | 8 |
| 6140 | 80 | 2.6GHz | 8 |
| 6166 HE | 65 | 1.8GHz | 12 |
| 6176 | 80 | 2.3GHz | 12 |
| 6180 SE | 105 | 2.5GHz | 12 |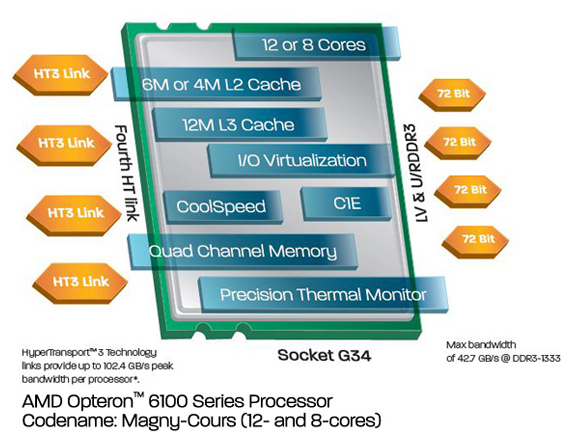 The two new AMD Opteron HE processors meet market demand for highly scalable, power-efficient systems that are especially well suited for Web serving, virtualization and cloud computing workloads.
The new AMD Opteron SE processor enables increased performance in key environments such as HPC, financial services, database and newly virtualized datacenters.
These processors are socket-compatible with the AMD Opteron 6000 Series platform, as will be AMD's upcoming 16-core "Bulldozer"-based Opteron processors.
AMD Opteron 6000 Series platform-based systems powered by the new AMD Opteron processors are available now from OEMs and system builders, including Acer, Appro, Cray Inc., Colfax, Dawning, Dell, HP, Microway, NCS Technologies, Inc., Nor-Tech, Penguin,SGI, Silicon Mechanics and ZT Systems.
Servers using the AMD Opteron 6000 Series platforms are delivering excellent performance, value, and energy efficiency, outperforming Intel Xeon processor-based servers on numerous key server benchmarks.
Related news about AMD products