Transcend Information, Inc. (Transcend®), a worldwide leader in storage and multimedia products, released a new line of server-grade DDR3 ECC DIMM and Registered DIMM premium memory modules equipped with thermal sensors. This advanced innovation in thermal monitoring technology can greatly enhance memory reliability, efficiency, and overall system stability, making these new modules perfect for use in dedicated servers as well as workstations.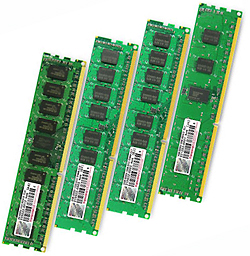 For high-end systems that constantly process huge amounts of data under non-stop operating conditions, CPU speed regulation and various other techniques to prevent overheating have become increasingly important in hardware design. In order to provide increased performance, Transcend now offers server-grade DDR3 modules that come equipped with an advanced thermal sensor. This allows motherboard chipsets to monitor the exact temperature of each memory module and adjust the memory load accordingly, ensuring the best possible system performance while at the same time protecting the DRAM modules from potentially catastrophic failure and compromised system stability.

Transcend's thermal sensor equipped DDR3 memory modules include ECC DIMMs and Registered DIMMs in both 1333MHz and 1066MHz versions, all of which comply with JEDEC (the Joint Electron Device Engineering Council) standards. In addition, these modules are built to exacting specifications with the highest quality DRAM chips and components available. Each Transcend memory module undergoes rigorous testing to ensure the best performance possible, and comes with a lifetime warranty and the comprehensive support of Transcend's renowned global service network. Recognized worldwide for reliable quality, outstanding performance, excellent compatibility and stable operation, Transcend memory modules are the preferred choice of performance-conscious system builders and IT professionals.
More news about Transcend products