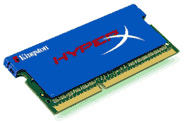 Kingston Technology Company, Inc., the independent world leader in memory products, today announced it is first to market with ultra-low latency HyperX® DDR3 gaming SO-DIMMs. The new DDR3 1066MHz notebook memory modules are pre-programmed to high-performance, ultra-low latency values and built with a new metal heatspreader that further helps promote thermal conduction for added performance.
"Computer makers are releasing more DDR3-based notebook computers into the marketplace and Kingston is pleased to be first to ship ultra-low latency SO-DIMMs to meet the increased performance these laptops can offer," said Mark Tekunoff, senior technology manager, Kingston®. "Our HyperX DDR3 notebook modules with metal heatspreaders represent new technology for gamers who want every competitive edge possible when pushing system performance."
Kingston's new HyperX DDR3 SO-DIMM (Kingston part #: KHX8500S3ULK2/4G) joins a family of previously released HyperX DDR2 notebook modules in 800- and 667MHz frequencies. Kingston HyperX is backed by a lifetime warranty and free 24/7 technical support.
Buy Kingston products online at ASBIS B2B e-Shop
About Kingston Technology Company, Inc.
Kingston Technology Company, Inc. is the world's largest independent manufacturer of memory products. Kingston designs, manufactures and distributes memory products for desktops, laptops, servers, printers, and Flash memory products for PDAs, mobile phones, digital cameras, and MP3 players. Through its global network of subsidiaries and affiliates, Kingston has manufacturing facilities in California, Malaysia, Taiwan, China and sales representatives in the United States, Europe, Russia, Turkey, Ukraine, Australia, New Zealand, India, Taiwan, China, and Latin America. For more information, please call 800-337-8410 or visit www.kingston.com.