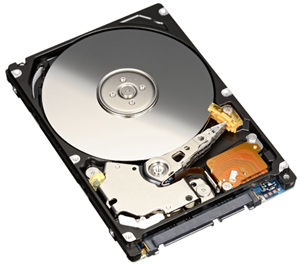 World's first half-terabyte*1 2.5" hard disk drive with AES 256-bit*2 encryption
Fujitsu Europe Limited announced the launch of its new 2.5-inch MJA2-BH and MJA2-CH 3.0Gb/sec*3 SATA mobile hard disk drive (HDD) series with rotational speeds of 5,400 RPM and industry leading half-terabyte (500GB*1) storage capacities. The MJA2-CH series is the world's first 500GB*1 line equipped with AES 256-bit*2 (Advanced Encryption Standard) full disk encryption to meet the information security needs for high data storage capacity applications. Both series are designed for the cumulative demands of notebook PCs, desktop PCs, consumer electronics and other mobile applications.
Low power consumption
Coinciding with Fujitsu's Green Policy promoting ecologically sound products, both new HDD series consume only 1.4W of power to record data, a reduction of 33%*4 in power consumption from previous generation models. Both series are in compliance with the EU RoHS Directives*5, which limit the use of hazardous substances in electronic equipment. These are also Fujitsu's first halogen-free*6 hard disk drives, making them environmentally friendly across their lifecycle from deployment to disposal.
High security
To prevent data leaks for customers handling sensitive information, the MJA2-CH series has a built-in encryption function. The model automatically encrypts data as it is recorded. All data stored on the HDD can be erased instantly, in less than a second, using the advanced secure erase feature. These features prevent data leaks in the event a PC is lost or stolen and make it simple to erase data during disposal, thereby reducing customers´ total cost of ownership.
Key specifications
The key specifications of the new MJA2-BH/CH drives include:
500GB*1 maximum storage capacity
5,400 RPM rotational speed
SATA 3.0Gb/s*3 interface
300MB/s maximum data transfer
8MB buffer*7
Average seek time (typ.) 12ms (read), 14ms (write)

900G (1 ms) shock resistance (non-operating)
1.4W (3.0 GB/s) power consumption
Noise at idle (typ.) 2.4 bels
Dimensions*8 (H) 9.5 x (W) 70 x (D) 100mm
Weight 101g or less

Availability
Fujitsu's initial launch includes the MJA2-BH series from December-end 2008, followed by the MJA2-CH series during the first quarter of calendar year 2009.
Buy other Fujitsu HDD's at ASBIS B2B e-shop
Notes
*1 One gigabyte (GB)
One GB is equivalent to one billion bytes. Usable storage capacity is actually less than this figure. Actual storage capacity may vary depending on the environment and formatting of the customer's system.
*2 256-bit Advances Encryption Standard (AES)
Selected by the U.S. National Institute of Standards and technology, this is the standard form of encryption used by the U.S. government. AES defines three possible key lengths: 128, 192, and 256 bits.The longer the key, the stronger the encryption.
*3 3.0Gb/s Serial ATA interface
The Serial Advanced Technology Attachment (SATA) interface is one of the ATA standards for connecting a computer to a HDD or other storage device. Each device has a 1:1 signal path to the host, transmitting data serially (one bit at a time). Therefore, high-speed data transfer without interference or noise is possible. SATA 3.0Gb/s is an extension of the SATA 1.5Gb/s standard and 3.0Gb/s is equivalent to the transfer speed of 300MB per second.
*4 One-third less than previous models
Comparison of the MJA2-BH with its predecessor model MHZ2-BH
*5 RoHS Directive
Short for "Restriction on the use of certain hazardous substances in electrical and electronic equipment." A directive issued by the European Union on February 13, 2003 that has set legal regulations for hazardous substances in electrical and electronic equipment to minimize risk to the environment and people in member countries. Based on the directive, as of July 1, 2006, the amount of lead, hexavalent chromium, mercury, cadmium, polybrominated biphenyls (PBB) and polybrominated diphenyl ether (PBDE) is regulated in electrical and electronic equipment intended for Europe.

*6 Halogen-free
Halogen-free as defined by levels of chlorine (CL) and bromine (Br) or a compound in which they are combined reduced to be less than the standards of IEC61249-2-21:2003, as stated below:
Chlorine: less than 900ppm
Bromine: less than 900ppm
Chlorine + bromine: less than 1500ppm
*7 Buffer
Some buffer memory will be used by the firmware controller
*8 Dimensions
Excludes PCBA and connector
About Fujitsu
Fujitsu is a leading provider of IT-based business solutions for the global marketplace. With approximately 160,000 employees supporting customers in 70 countries, Fujitsu combines a worldwide corps of systems and services experts with highly reliable computing and communications products and advanced microelectronics to deliver added value to customers. Headquartered in Tokyo, Fujitsu Limited (TSE:6702) reported consolidated revenues of 5.3 trillion yen (US$53 billion) for the fiscal year ended March 31, 2008. For more information, please see: www.fujitsu.com.
More news about Fujitsu

July 09, 2008 ASBIS to Supply Fujitsu's New 2.5" SATA HDD with World-Class 500GB Storage Capacity Half-Terabyte HDD from Fujitsu combines world-class storage capacity with high-energy efficiency
November 08, 2007 Fujitsu Launches World's Largest Capacity External 2.5" Mobile HDD New HandyDrive from Fujitsu with up to 300GB* in one drive: A safe solution for demanding storage environments.