Download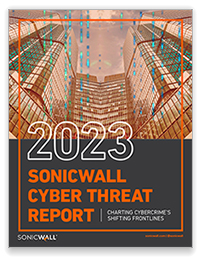 Overall malware up 2%, with surges in IoT malware (+87%) and cryptojacking (+43%)
Ransomware attacks dipped 21% globally, but 2022 still second-highest year on record for global ransomware attempts (493.3 million)
Education (+157%), finance (+86%) and retail (+50%) verticals hit hardest by malware
Ukraine saw record levels of malware (25.6 million) and ransomware (7.1 million)
SonicWall discovered 465,501 'never-before-seen' malware variants in 2022
Intrusion attempts against Log4j vulnerabilities eclipsed 1 trillion
"The past year reinforced the need for cybersecurity in every industry and every facet of business, as threat actors targeted anything and everything, from education to retail to finance," said SonicWall President and CEO Bob VanKirk. "While organizations face an increasing number of real-world obstacles with macroeconomic pressures and continued geopolitical strife, threat actors are shifting attack strategies at an alarming rate."
Threat Actors Shift Strategies, Opt for Covert Cyberattack Methods
Global malware volume increased 2% year-over-year, but it was jumps in IoT malware (+87%) and cryptojacking (+43%) that offset the decline of overall global ransomware volume (-21%), signifying a strategic shift. Threat actors have embraced slower and more stealthy approaches to achieve financially-motivated cyberattacks.
Diverse Attacks Offset Global Ransomware Decline
Cybercriminals are using increasingly advanced tools and tactics to exploit and extort victims, with state-sponsored activity growing as a concern. While ransomware continues to be a threat, SonicWall Capture Labs threat researchers expect more state-sponsored activity targeting a broader set of victims in 2023, including SMBs and enterprises.
The 2023 SonicWall Cyber Threat Report provides insight on a range of cyber threats, including:
Malware – Total volume was up 2% in 2022 after three straight years of decline — just as SonicWall predicted in the 2022 SonicWall Cyber Threat Report. Following that trend, Europe as a whole saw increased levels of malware (+10%) as did Ukraine, which had a record 25.6 million attempts, suggesting malware was used heavily in regions impacted by geopolitical strife. Interestingly, malware was down year-over-year in key countries like the U.S. (-9%), U.K. (-13%) and Germany (-28%).
Ransomware – Although overall ransomware numbers saw a 21% decline globally, the total volume in 2022 was higher than 2017, 2018, 2019 and 2020. In particular, total ransomware in Q4 (154.9 million) was the highest since Q3 2021.
IoT Malware – Global volume rose 87% in 2022, totaling 112 million hits by year's end. With no corresponding slowdown in the proliferation of connected devices, bad actors are likely probing soft targets to leverage as potential attack vectors into larger organizations.
Apache Log4j – Intrusion attempts against the industry's Apache Log4j 'Log4Shell' vulnerability eclipsed 1 trillion in 2022. The vulnerability was first discovered in December 2021 and has been actively exploited since.
Cryptojacking – Use of cryptojacking as a 'low and slow' approach continued to surge, rising 43% globally, which is the most SonicWall Capture Labs threat researchers have recorded in a single year. The retail and financial industry felt the sting of cryptojacking attacks, seeing 2810% and 352% increases, respectively, year-over-year.