Hesham Tantawi, ASBIS' Vice President for Middle East and North Africa has been recognized as "King of Components" by Arabian Business magazine. His inclusion into the Top 20 ranking of the Dubai-based components channel's movers and shakers reaffirms ASBIS' role as a leading market player in the region.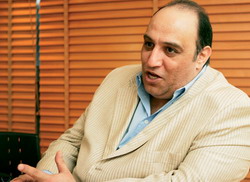 The magazine points out that "under the stewardship of Hesham Tantawi, ASBIS' MEA business continues to multiply and netted sales of more than US$110m last year. The company holds both AMD and Intel rights in certain territories, while products from the likes of Asus, Foxconn and Seagate ensure it can act as a one-stop shop for any components reseller or assembler."
ASBIS' Middle East operations had experienced significant growth and, as a result, the company acquired a warehouse in Dubai (Jebel Ali – free trade zone area) to support increasing business. It is expected that the new offices and warehouse will be operational during the second quarter of the current year.
ASBIS is also considering opening a new subsidiary in the Kingdom of Saudi Arabia. This is after Toshiba franchised ASBIS for the country. It is expected that this will boost both the revenues and profits from the Middle East region as this is one of the fastest growing markets.