By Andrew Seymour
Components distributor Asbis has announced its first trading update since listing on London's Alternative Investments Market (AIM) late last year. The company — which boasts a strong presence in the Middle East and North Africa — expects to record total group sales of US$1 billion for 2006.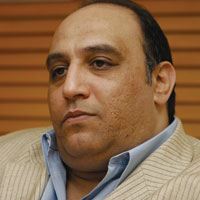 Asbis is not planning to disclose any further numbers until the publication of full-year results in mid-April, but it has told investors that profits are anticipated to be "slightly ahead" of market expectations. Note that the company recorded pre-tax profits of US$9.3m on sales of US$930m back in 2005.
Asbis claims its growth during the past year has been "underpinned" by strong relationships with key suppliers such as Intel, AMD, Hitachi, Seagate and Samsung, as well as a robust performance from its own-brand product portfolio. The Cyprus-based outfit produces the Prestigo line of flat panel displays and Canyon range of peripherals and accessories.
"We are very pleased to see revenues for the year at record levels with the continued growth of our core distribution and own brand businesses," stated Siarhei Kostevitch, chief executive at Asbis. "In addition, we are encouraged by the growth in contribution from our own brand products, in line with our stated strategy, which has helped drive a strong Group performance for the year."
Asbis listed on the AIM in October 2006 with a three-pronged mission to access future capital for potential acquisitions, provide incentives to employees through the grant of options, and increase its profile.
The company boasts almost 25 offices across the EMEA region, including hubs in Egypt, Morocco, Tunisia and the UAE. In documents published ahead of its listing, Asbis revealed that its Middle East and African operation achieved sales of US$37.5m during the first six months of 2006, accounting for less than 10% of its total business.
Source: ITP.net