ASBIS received the award from Seagate for celebrating 10 years of successful partnership.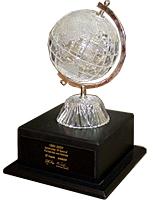 About Seagate
Seagate delivers advanced digital storage solutions to meet the needs of today's consumers and tomorrow's applications. Seagate designs, owns and manufactures all of the core technologies needed to develop individual storage products, including heads, media, motors and printed circuit boards. Without reliance on third parties to supply components, the company has complete control of its entire development process and product roadmap—from component supply to technology improvements. As a result, product quality, margins and time to market are vastly improved—enabling Seagate to quickly meet the quality, reliability and supply demands of its customers.
Seagate Technology has been at the forefront of the storage industry for more than 25 years. With corporate offices in Scotts Valley, California, Seagate employs more than 56,000 people around the world—all contributing to the development of the company's next-generation storage products. From the first 5.25-inch hard drive for the PC to the development of perpendicular recording technology, the company has been pioneering new industry standards that have fueled advancements in the digital information age. Through technology leadership and innovation, Seagate continues to help individuals and businesses maximize the potential of their digital content in an ever-evolving, on-demand world.
For more information please visit www.seagate.com