BUY ONLINE
Available for order
in May 2010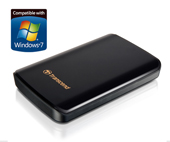 Transcend Information, Inc. (Transcend ), a worldwide leader in storage and multimedia products, launched its StoreJet 25D3 2.5-inch shockproof portable hard drive, one of the first USB 3.0 compatible peripherals introduced to the market.
The SuperSpeed USB 3.0 model offers much better performance than USB 2.0 external hard drives, with real-world transfer speeds of up to 90MB/s. Featuring its significantly improved transfer rates and advanced anti-shock design, the StoreJet 25D3 provides users with a fast and durable solution to match today`s increasingly sophisticated devices.
SuperSpeed USB 3.0

As technology marches forward, new kinds of media formats and storage requirements demand more bandwidth. To address this growing need, SuperSpeed USB 3.0 boasts optimized interface speeds up to 10X faster than Hi-Speed USB 2.0. Utilizing the new, next-generation USB 3.0 standard, Transcend`s StoreJet 25D3 portable hard drive delivers blazing fast data transfer rates of up to 90MB/s in real world testing, making it easier and less time-consuming to share and store gigabytes of rich digital content.
The StoreJet 25D3 USB 3.0 portable hard drive is backwards compatible with USB 2.0, allowing users to access their files from nearly any computer. With a multicolor USB 3.0/2.0 status LED indicator, users can easily identify the drive`s current connection type. When operating in USB 2.0 mode, the indicator will appear orange; when USB 3.0 is connected, the LED light will turn blue.
Reliable and Shockproof Protection
Under the StoreJet 25D3 drive`s seemingly delicate case with gloss piano finish is a shock-dampening system that incorporates internal suspension technology. While the sleek, mirror-like exterior enhances tactile and visual appeal, the advanced internal hard drive suspension system helps prevent damage from accidental slips or falls during travel that may result in massive data loss. Also an eco-friendly drive, the StoreJet 25D3 is designed to automatically go into power-saving sleep mode after ten minutes of inactivity, allowing energy-savings of up to 40%.
In addition to its StoreJet 25D3 USB 3.0 model, Transcend launched the USB 2.0 compatible StoreJet 25D2 portable hard drive that shares the same durable and shock-resistant features at the same time. For added value, both the StoreJet 25D3 and StoreJet 25D2 portable hard drives are backed up by an extra-long 3-year warranty, and come bundled with Transcend`s own StoreJet Elite software that offers intelligent backup scheduling, Internet tools and 256-bit AES encryption. All StoreJet drives are certified for Windows 7.
Currently offered in classic black, the StoreJet 25D3 is now available in 500GB capacity, while the StoreJet 25D2 is available in 250GB, 320GB, 500 GB and 640GB capacities.
Related news about Transcend products