BUY ONLINE
Available for order
in April 2010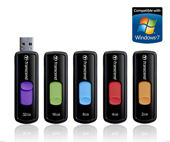 Transcend Information, Inc. (Transcend®), a worldwide leader in storage and multimedia products, launched its JetFlash® 500 retractable USB flash drive.
The stylish JetFlash 500 features a smooth sliding USB connector that eliminates the need for caps and effortlessly extends and retracts with a simple flick of the thumb. With its user-friendly capless design, various color and capacity options and smooth contoured shape, the JetFlash 500 is an ideal portable storage solution for users with busy and active lifestyles.
Capless Design with a Sliding USB Connector
Losing USB end caps can be quite annoying, not to mention the inconvenience of taking the cap on and off every time the drive is used. For extra convenience and protection, Transcend's JetFlash 500 flash drive is designed with an innovative extension and retraction mechanism that enables users to bring out or hide the connector with a single flick of the thumb. The JetFlash 500's capless design not only keeps dust and debris out of the drive, but also ensures there is no cap to misplace or lose. For further peace of mind, the JetFlash 500 is solidly built to withstand a few bumps and falls, so users can be sure its USB connector will never become loose, fall out, or accidentally slip back into the drive when plugging it into a computeкю
Multiple color and capacity options
Thanks to its use of ultrasonic welding technology, the JetFlash 500 drive's inseparable outer case not only makes the drive more solid and rugged, but also improves its tactile and visual appeal. The JetFlash 500 comes in five vivid color options to match its sleek, streamlined black case: orange, red, blue, green and purple. With capacities ranging from 2GB to 32GB, the JetFlash 500 is a USB flash drive users will want to take out of their pocket and show off to their friends.
For added value, users of the JetFlash 500 can download and install Transcend's free JetFlash Elite data management tools onto the JetFlash drive to enhance mobile productivity. The JetFlash 500 carries Transcend's highly acclaimed lifetime warranty and is currently available in five capacities: 2GB, 4GB, 8GB, 16GB and 32GB.
Related news about Transcend products