Transcend, an international leader in flash memory products, introduced its new T.sonic 650 MP3 player. Combining a lightweight streamlined design and high storage capacity (up to 4GB) at an affordable price, the T.sonic 650 is truly an incredible value.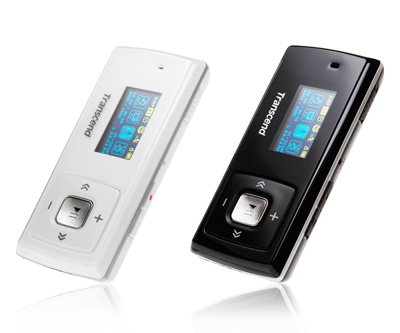 Transcend's T.sonic 650 is designed to be ultra portable and easy to use. It slips effortlessly into your pocket or bag, with its measurements of only 75 mm x 31 mm x 13 mm. Weighing in at a mere 30g (with Li-ion battery), the T.sonic 650 is light enough that you may forget it's in your pocket, and you can even wear it around your neck. Thanks to the ingenuity of Transcend's designers, you won't find a single screw on the outer shell of T.sonic 650 to negatively impact the player's aesthetics.
The high-gloss front face is attractive and blends well with any fashion. T.sonic 650 has a brilliant dual-color OLED display that can easily be viewed at any angle, even in broad daylight. The easy-to-read display is also great for singing along with the T.sonic 650's karaoke-style Lyrics Sync function. To increase ease-of-use and intuitive interface navigation, a convenient 4-way button is built into the face of the T.sonic – making access to your MP3s easier than ever.
A versatile MP3 player, the T.sonic 650 also has a built-in FM radio that can be quickly recorded whenever you hear something you like. Other functions like A-B repeat and variable playback speeds are excellent tools for students and professionals alike, allowing easy review of important class lectures, meetings or foreign language lessons. The one-touch recording function with Voice Activity Detection lets you make high quality gapless voice recordings and personal memos.
Above all, the T.sonic 650 is a great music player with support for MP3, WMA, WAV, and even WMA-DRM10 subscription music. With 4GB of storage space, you can easily store up to 1000 of your favorite songs for endless hours of music entertainment. Also provided are seven different equalizer modes to choose from -- Normal, POP, Rock, Classical, Jazz, Bass and a special USER EQ, which lets you make personal adjustments to create your own music style.
The ultra compact feature-rich T.sonic 650 is available in two capacities, each with an eye-catching color: 2GB (Ivory) and 4GB (Charcoal).
Product Features

- Supports MP3, WMA, WMA-DRM10 (subscription music) and WAV music formats
- FM Radio with 20 station presets and recording options
- Digital voice recorder with VAD (Voice Activity Detection) for gapless recordings
- Bright dual-color 4-line OLED display with power-saving screen savers
- Variable track playback speeds and A-B repeat for reviewing important parts of songs, meetings, lectures and more
- Displays 13 languages including song title, artist, and synchronized lyrics
- 7 Equalizer effects: Normal, POP, Rock, Classical, Jazz, Bass and USER EQ
- Real Time Clock (RTC) displays local and world times
- Internal rechargeable Li-ion battery provides over 15 hours playback
- Sleep timer can be set to automatically power-off after 15, 30 or 60 minutes
- High-speed USB 2.0 interface with USB flash drive and security functions
- 2 year warranty