Transcend's 4GB JetFlash V90 Classic USB flash drive has been awarded the "Red Dot" distinction for high design quality by the International Jury of 2008 Red Dot Design Award.
The fashionable 4GB JetFlash V90 Classic features a distinctive metallic swirl pattern that appears to move when light catches it at different angles and is a perfect addition to any set of keys, wallet or purse. Although delicate in appearance, this miniature flash drive`s shiny metal casing offers solid protection for your valuable data hiding inside. The JetFlash V90 Classic is truly a marriage of fashion and technology.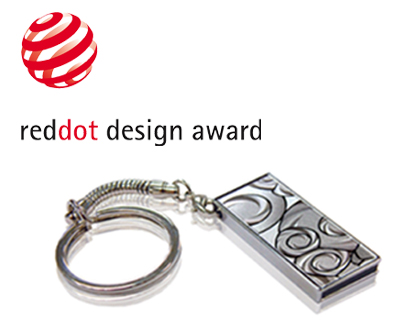 The 2008 Red Dot Award for product design has a total of 3,203 submissions from 51 different participating countries. Faced with the great number of high quality products from top designers and first tier brands all over the world, Transcend's JetFlash V90 Classic outperformed rival products by capitalizing on its winning combination of trendy looks and practical storage performance.
This outstanding achievement demonstrates once again how Transcend has successfully diversified its product range and has developed into a serious manufacturer of high quality, innovative consumer electronics that offer consumers much more for their money. Already a globally recognized leader in the manufacture of DRAM and Flash-based products, Transcend continues to look to the future by exploiting its design resources to develop more advanced, highly artistic products for all of its customers across the globe.
The international Red Dot Design Award ranks among the largest and most renowned design competitions in the world. Each year an international jury reviews and evaluates the submitted products according to criteria such as degree of innovation, functionality and aesthetics. This ensures the seriousness of the competition as well as its international acceptance. The group of jurors is made up of renowned designers and design experts from all over the world who independently and impartially decide which designs are good enough to receive a red dot award. The award-winning products are put on display for the international public in the red dot design museum.