Toshiba Electronics Europe (TEE), Storage Products Division has announced its first hybrid drive. The 2.5-inch (6.4 cm) hybrid drive provides fast SSD-like performance with the high capacity of a hard disk drive (HDD), offering the best of both worlds. The new MQ01ABD-H Series will be available in 1TB and 750GB1. This combined with 8GB of NAND flash make it ideal for high performance gaming notebooks and PCs. Its lightweight design makes it ideal for ultra-portable computing devices.
With the rise in data intensive games and media, users don't want to compromise on performance or capacity. A hybrid drive combines the dual platter magnetic storage of an HDD with NAND cache. The HDD platters provide high capacity storage and the integration of NAND flash increases the read/write speeds, enhancing the overall performance of the drive.
Toshiba is the only storage vendor that designs and develops both HDD and NAND flash technology, the core components of Hybrid drive technology. It is utilising its years of expertise and experience to transform the new storage category. Toshiba's revolutionary hybrid drive will deliver a faster performance and responsiveness. Users will enjoy quicker boot up times and faster access to files, photos and music as well.
Toshiba's hybrid drive utilizes self-learning algorithms that enable the drive to learn the user's access patterns. This means that frequently used data is stored in NAND cache making it more quickly accessible to the host. Likewise data that is used less often is moved from the NAND flash to the HDD for long term storage. This selflearning mechanism continues to develop throughout the lifespan on the drive, constantly improving the performance of the drive.
"The launch of the Toshiba hybrid drive will mean a truly different and exciting computing experience. By combining high performance NAND flash technology with HDD high capacities, consumers can now enjoy the best of both worlds," said Martin Larsson, vice president, Toshiba Electronics Europe. "Toshiba's years of experience and innovation in the storage industry means it's in a unique position to capitalize on these benefits. The new hybrid model is one of the top innovative technologies for Toshiba and its transformative nature heralds a new type of storage for the consumer."
Specifications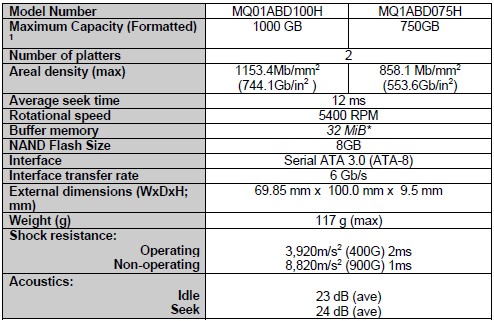 * One Mebibyte (1MiB) is calculated as 1,048,576bytes.
1 Definition of Capacity: TOSHIBA defines a megabyte (MB) as 1,000,000bytes, a gigabyte (GB) as 1,000,000,000 bytes, and a terabyte(TB) as 1,000,000,000,000bytes.