BUY ONLINE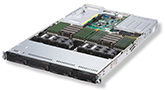 Super Micro Computer, Inc. (SMCI), a global leader in compute, storage and networking technologies including green computing, announces new dual socket servers and upcoming single-socket solutions supporting AMD EPYC™, the latest AMD family of high-performance processors.
Supermicro announces availability of 1U and 2U Ultra dual-socket A+ Servers, architected to deliver unrivaled performance, flexibility, scalability, and serviceability required for demanding Enterprise mission critical environments and workloads. The proven Ultra design supports the highest performance AMD EPYC processors, high capacity memory, 25G/10G/1G Ethernet networking, optimized PCI-E expansion options, diverse storage alternatives including 24/10 All-Flash NVMe in 2U/1U, 2.5" and 3.5" hot-swap drive bay selections, GPU support, and highest efficiency Titanium Level power supplies.
Supermicro is positioning a flexible, dual-processor Tower / 4U System supporting a feature-rich EATX motherboard, and single-socket Mainstream rackmount server systems that provide cost optimization and scalable I/O choices. With high performance, lower power consumption, and reduced CAPEX, customers can match these systems to their workloads without compromise.
The Supermicro Twin products include a 2U 4-node dual-socket platform that delivers the highest data center efficiency across diverse applications and workloads, supporting up to 32-cores on AMD EPYC processors, maximum 16 DIMM slots, high I/O capacity, with a broad selection of storage options including 24 All-Flash NVMe drives. This Twin system offers optimized thermal capacity for maximum performance, efficiency and free air cooling.
This full Supermicro product portfolio aims to revolutionize the dual-socket server market while simultaneously reshaping expectations for single-socket servers with its support for AMD EPYC processors providing outstanding core density and performance, superior memory bandwidth, and unparalleled support for high-speed input/output (I/O) channels in a single processor. Supermicro servers supporting AMD EPYC will radically lower data center TCO through an optimized balance of compute, memory, I/O, and storage resources.
Supermicro's product line is unrivaled in the industry with the strongest optimized motherboard and server configurations for Data Centers, HPC and Cloud Computing," said Don Clegg, Vice President of Marketing and Business Development at Supermicro. "Boosting performance per watt and per dollar, our broad selection of AMD EPYC-based solutions provides customers with a new range of powerful and energy efficient server options that can lower their overall TCO."
"The new AMD EPYC processors were designed to deliver optimized performance per watt, and to address the complex data center and cloud computing challenges customers face today," said Scott Aylor, corporate vice president, enterprise solutions, AMD. "With Supermicro's strong suite of server solutions shipping with new AMD EPYC processors, customers can deploy cost-optimized solutions tailored for their specific applications and take advantage of the combination of more cores, more memory bandwidth, and more I/O that EPYC delivers."

Download A+ Servers AMD EPYC™ 7000 Series Supported brochure
To get more information, please, contact us or fill the feedback form and our Experts will communicate with you.