BUY ONLINE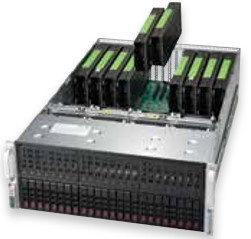 Supermicro is committed to protecting the environment through its "We Keep IT Green®" initiative and provides customers with the most energy-efficient, environmentally-friendly solutions available on the market.
Supermicro's advanced Server Building Block Solutions® offer a vast array of components for building energy-efficient, application-optimized, hyper-converged infrastructure solutions. Architecture innovations include Twin, FatTwin™, TwinPro™, Ultra, MicroCloud, MicroBlade, SuperBlade®, Simply Double, Double-Sided Storage®, Battery Backup Power (BBP®) modules and WIO/UIO. Products include servers, blades, GPU systems, workstations, motherboards, chassis, power supplies, storage, networking, server management software and SuperRack® cabinets/accessories delivering unrivalled performance and value.
Why Supermicro?
First-to-market technology
Application optimized design
Widest range of Server/Storage products available (including High-end offerings)
Global SKUs – accelerated deployment, support and service worldwide
End-to-End Server, Storage and Networking – complete, integrated solutions for Cloud, Software Defined Infrastructure and Big Data
Supermicro Rack Scale Design (RSD)
Best price/performance ratio
High availability
High performance and quality
High density
Extensive customization capabilities, based on customer requirements
The full range of Supermicro products deliver industry-leading performance and efficiency at competitive price.
SuperServer®

Most comprehensive line of rack-mount servers and towers with a superior, feature-rich product design and best price/performance ratio.

Download product brochure

SuperStorage

A complete portfolio of high performance, high capacity storage solutions featuring maximum efficiency power supplies, NVMe support and fully redundant architectures.

Download product brochure

Super
Workstations

Server-grade workstations optimized for Media & Entertainment, Engineering, Research and Scientific Applications, designed to deliver exceptional results with no compromise on performance.

Download product brochure


Twin™ Solutions

High density, high performance and high availability multi-node servers optimized for HPC, Data Center, Cloud Computing and Enterprise IT applications. This range is available in multiple form factors to suit a wide range of requirements.

UltraServer

The SuperServer product line designed to deliver unrivalled performance, flexibility, scalability, and serviceability to demanding enterprise workloads.

WIO Servers

Includes wide range of cost-effective I/O options for optimized storage and networking for General Purpose, Network and Security Appliance applications.

MP Servers

Multi-processor server systems designed for enterprise mission-critical applications, and advanced Analytics, Database, Virtualization, and Scale-up workloads.

MicroCloud

Up to 24 server nodes in a compact 3U form factor provides cost-effective high performance, density and efficiency to applications including Web Hosting, CDN and Social Networking

Download product brochure



MicroBlade™

Offering the highest density in a 6U or 3U blade form factor, this range is optimized for Enterprise, Web, HPC and Data Center applications.

SuperBlade®

This range delivers high density, availability and low power consumption to high performance applications. SuperBlade systems are available with GPU and NVMe support to suit a range of requirements

Download product brochure



SuperRack®

Leveraging modular Supermicro Building Block Solutions®, SuperRack configurations provide convenient, flexible, reliable, customizable, and compatible systems to fit enterprise-level requirements.

Download product brochure

Motherboards

The extensive range of x86 server boards, available at a competitive price/performance, includes high performance boards supporting the latest CPU, memory, and add-on hardware.

GPU/ Xeon Phi™ Solutions

Supermicro offers the highest quality GPU/ Intel Xeon Phi™ solutions, optimized for the most compute-intensive applications. Engineering, Scientific and Research applications benefit from dramatically accelerated performance with this range of supercomputing solutions.

Networking
Solutions

Offering the latest cost-effective, Top-of-Rack Ethernet switching technology, whether it be traditional fully-featured models incorporating both hardware and software in a complete solution, or bare metal hardware capable of running third-party software and configurable to specific customer needs in an Open Network Environment.

Download product brochure