Sony NEC Optiarc Europe GmbH introduces slimline Blu-ray Disc Combo Drive Unleashing the full potential of BD-Video-Discs with the BC-5500A
Sony NEC Optiarc Europe GmbH (Optiarc Europe) has launched its first Blu-ray Disc Combo (BD Combo) for notebooks. The Optiarc BC-5500A supports BD playback at double speed as well as read and write of conventional DVD and CD media. This versatile product gives even mid-range notebooks the BD capability that is currently a privilege of the top-of-line notebooks.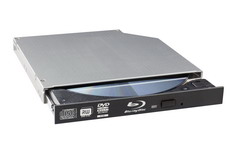 Optiarc BC-5500A is a fruit of successful integration of the advanced components technologies from Sony and NEC. It sports Sony's optical pickup module and NEC's system LSI in the heart of the drive, that enable 2x BD reading speed for flawless playback of high definition video.
Thus the BC-5500A is the ideal device for notebook users that are interested in burning DVDs and CDs and additionally are looking to be able to play back Blu-ray Discs and watch HD-movies. The BC-5500A can also read, write and rewrite all current CD and DVD formats. It burns DVD+/-R at up to 8x speed and DVD+/-RW and DVD+/-R DL at up to 4x speed. It also writes to DVD-RAM at 5x speed and to CD at up to 16x speed.
The Optiarc BC-5500A will be available in EMEA from September 2007. Optiarc Europe offers a comprehensive 24-month warranty on the product.
About Sony NEC Optiarc Inc.
Sony NEC Optiarc Inc. serves global optical disc drive market with its innovative and high quality products. It was established as a joint venture company by Sony Corporation (55%) and NEC Corporation (45%) in 2006, with approximately 415 employees and its headquarter located in Tokyo, Japan. The European headquarter of Sony NEC Optiarc Inc. is Sony NEC Optiarc Europe GmbH located in Ismaning, nearby Munich, Germany.