Prestigio Plaza Ltd. has announced a new environment friendly device - Bluetooth hands free with solar charging capability. Solar Bluetooth hands free provides to its users freedom of talking combined with cable independence.
The release of Solar Bluetooth hands free expands traditional Prestigio values. It is a device that offers to its users a possibility to consider both their own security and the environment. Thanks to the use of Bluetooth 2.1 technology this model provides quality communication with free hands which in turn reduces harmful radiation upon the brain. Moreover with both hands free you can drive more safely.
However, the most important advantage of Solar Bluetooth Hands Free is its solar charging capability. There is a great number of benefits using the device – independence on energy sources and cables on the road, charge-free operations with an alternative energy source; up to 15 hours of additional talking time and up to 500 hours in standby mode. Thanks to ultra light design and mounting cradle kit, Solar Bluetooth Hands Free can be easily attached to the windshield window in your car where it will be charged on-the-go.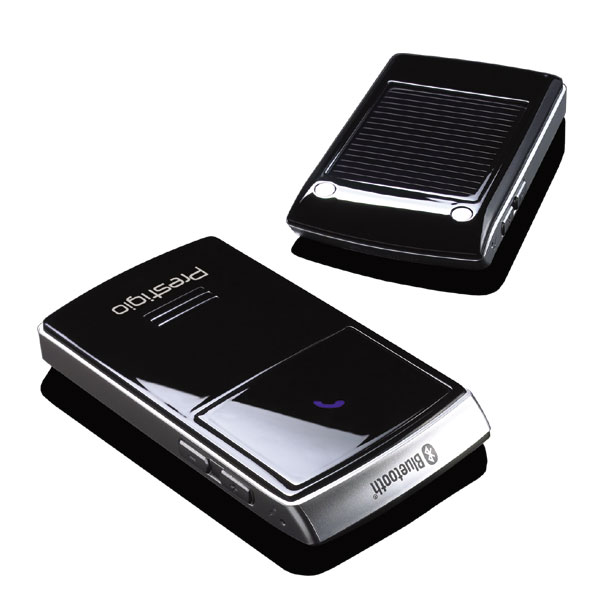 Since the Solar Bluetooth Hands Free is designed for people who have to talk a lot when driving, the primary effort is paid to the quality of sound. This device is equipped with high performance speaker and is based on DSP technology with noise cancellation that gives you a feeling of speaker's presence near you. In addition, Solar Bluetooth Hands Free supports a wide range of handy features such as call rejection, voice dialing, auto reconnection, last number redial, call waiting.
Art design in classic pure black and silver colors perfectly matches any interior. Every detail of the device is developed with users' convenience in mind - slim body makes it handy to mount it on the window, three LED's indicators reflect Bluetooth link, call, solar and battery statuses. Even package is designed to meet the users' requirements and makes this device a perfect gift for anyone.
The device is mainly targeted at mobile and business consumers who wish to save their time and need to be free to talk even in difficult road situations. It provides cable and energy independence, gives you confidence in a safe, handy talk during the trip and helps you to enjoy the drive and the conversation.
Buy Solar Bluetooth Hands Free online at ASBIS B2B marketplace
| More information about Solar Bluetooth Hands Free
|More Prestigio news
About Prestigio

Prestigio Technologies Ltd. is a highly dynamic IT company providing Digital Home and Office consumer solutions to the market. Having started as a small R&D subsidiary of ASBIS Group, during the last several years Prestigio has become a supplier of unique hi-tech solutions and products to consumer market. Digital Home and Digital Office are the two main focus areas of the company. Investing in the combination of "The Art of Hi-Tech" (solutions where hi-tech products become works of Art), the company has uniquely positioned itself on the market. Currently headquartered in Cyprus, Prestigio actively operates in the EMEA region through representative offices and business partnerships located in key business centres of the region and offering its customers an excellent portfolio of cutting-edge IT products and value-added services. For more information please visit www.prestigio.com.