The Constellation family includes 2.5-inch nearline HDD with lowest enterprise power consumption and record-setting 3.5-inch 2TB HDD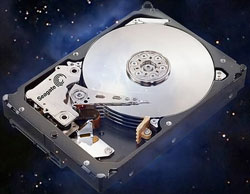 Seagate introduced its Constellation™ family of new enterprise storage solutions for Tier 2 nearline storage applications. The two new drive models, the 2.5-inch Constellation and the 3.5-inch Constellation ES hard drives, include a combination of features that enable high capacities, increased power efficiency, enterprise-class reliability, and data security. Both drives also include PowerChoice™ from Seagate, which decreases power consumption by up to 54% for record power savings in enterprise environments.
Constellation 2.5-inch HDD
The Constellation 2.5-inch hard drive is offered in capacities of 160GB and 500GB with both 3 Gbps SATA and new SAS 2.0 interface running at 6Gb/s speeds. As the first SAS 2.0 nearline drive, the Constellation hard drive enables larger external storage topologies, 100% faster data throughput and higher signal strength over greater distances – dramatically increasing storage scalability.
"Dell recognizes that increased capacity and high-reliability are key to enabling further adoption of small form factor storage within the enterprise. With new capacities, small form factor drives afford customers performance and power gains within the same rack space," said Praveen Asthana, director of Dell Storage.
"As an industry-leader in storage, Dell is pleased to partner with Seagate and be one of the first companies to offer the Constellation family of drives to our customers."
Constellation ES 3.5-inch HDD
The 3.5-inch Constellation ES hard drive will be available in 500GB, 1TB and 2TB capacities, and with an enterprise-class SAS interface as well as a SATA version, and provides best-in-class capacity and performance. As the world's only 7200-rpm 3.5-inch hard drive providing up to 2TB of storage, the record-setting capacity of Constellation ES hard drives are ideal for 3.5-inch based external storage architectures. With Constellation ES hard drives, customers don't have to sacrifice performance in order to gain the highest capacities. The Constellation ES hard drive will ship in calendar Q3.
With Seagate's innovative PowerChoice technology, both Constellation hard drive models deliver the highest power-reduction savings ever offered in an enterprise-class HDD, and provide flexible, user-manageable options to deliver power savings without sacrificing performance, data integrity, or reliability. In addition, the Constellation family of drives are backed with field-proven, enterprise-grade reliability and rated at a full 1.2 million hours MTBF.
Delivering on Seagate's commitment to add security features throughout its product portfolio, the Constellation family of drives are offered with optional self-encrypting drive (SED) technology and provide government-grade data security through the drive's life cycle. SED technology makes drive retirement and disposal easy by eliminating the need for the numerous manual processes involved which are often incomplete, complex, expensive, or prone to error. For critical information that must remain secure, and because all systems are eventually retired, whether being relocated, re-purposed, or disposed of, the information on a Constellation SED hard drive remains AES-safe.
Seagate Unified Storage™ architecture
Historically, the variety of drive interfaces, form factors and now, security solutions, can add complexity and increase costs for both IT professionals and OEMs. Making the wrong choice today creates storage islands in the data center with no easy path for upgrades – further complicating an already complex environment. The Seagate Unified Storage architecture converges best-of-breed technologies (Serial Attached SCSI, Small Form Factor and Self-Encrypting Drives) into a foundation for powerful yet simple storage that boosts business and operational efficiency while reducing cost and complexity.
The Seagate Unified Storage architecture delivers a storage foundation for companies that are proactively ensuring the long-term sustainability of their business through best-in-class IT practices. Companies will avoid the risk of impacting their own product quality, competitiveness, or profitability when their storage system infrastructure and data center footprint is optimized across power, cooling and performance density. Because the role of small form factor drives are important to the long-term efficiency and sustainability of any data center enterprise, Seagate will be extending this component into all tiers of its Unified Storage architecture in the future.
Tier 2 nearline storage
This is upcoming standart of data storage to be used in companies where data must be kept (for compliance reasons, value to the company etc), but doesn't need to be regularly accessed and shouldn't be changed.  This is usually financial records, transactions, CAD, company records and the like.  Near-line storage makes less stress on the server, improves data access and free storage space for frequently updated data (Tier 1).
Seagate Constellation HDDs are immediately available for ordering through Asbis B2B Marketplace across the region of Europe, Middle East, and Africa.