BUY ONLINE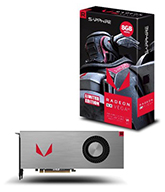 SAPPHIRE Technology has announced the launch of the much-anticipated SAPPHIRE Radeon Vega 64 enthusiast graphics cards. The Vega architecture boasts significant improvements focused on maximizing the performance. Vega cards are designed for enthusiasts seeking top-of-the-chart framerates in games of today and tomorrow – in Ultra details and VR.
SAPPHIRE Technology is introducing three Vega-powered models:
SAPPHIRE Radeon RX Vega 64 8GB HBM2 Liquid Cooled
SAPPHIRE Radeon RX Vega 64 8GB HBM2
SAPPHIRE Radeon RX Vega 64 8GB HBM2 Limited Edition
Let's have a closer look at these new models and the technology that powers them.
AMD Radeon Vega architecture
Vega is a major evolution of the Radeon graphics architecture, with innovations across multiple core fronts of the silicon. New GPUs feature a High Bandwidth Cache and memory controllers remove the capacity limitations of traditional GPU memory. Thanks to automatic, fine-grained memory movement controlled by the high-bandwidth cache controller, new architecture enables access to much larger, more detailed assets. Vega GPU utilizes HBM2, the latest in graphics memory technology, to provide incredible levels of power efficiency and memory performance.
RTG engineers also equipped Vega chips with Next-Gen Compute units. This translates to higher possible clock speeds, better throughput and double the peak polygon per clock handled by the engine (vs R9 Fury X). The Pixel Engine also received a Next-Gen makeover, boosting the shading performance especially vital for gaming. Significant advancements were made to the geometry engine as well.
Gaming performance
SAPPHIRE Radeon RX Vega 64 graphics cards are the new high-end models of the Radeon family, we know you've been waiting for. The time has finally come to showcase the performance of Vega in the most important category of software on the planet: Games. Spoiler: it's fast. Like, Ultra-details and VR Premium-fast!
| | | |
| --- | --- | --- |
| Graphics Processor | Vega XT | Vega XTX |
| Base Clock | 1247 MHz | 1406 MHz |
| Boost Clock | 1546 MHz | 1677 MHz |
| Max Clock (DPM7) | 1630 MHz | 1750 MHz |
| Stream Processors | 4096 (64 Compute Units) | 4096 (64 Compute Units) |
| Memory Clock | 945 MHz (1,9 Gbps) | 945 MHz (1,9 Gbps) |
| Memory Size | 8192 MB | 8192 MB |
| Memory Type | HBM2 | HBM2 |
| Memory Bus | 2048 bit | 2048 bit |
| Cooler type | Air, Dual-Slot, Silver or Black design | Liquid + Radiator, Dual-Slot, Silver design |
| CrossFire Support | Bridgeless, up to 4 GPUs | Bridgeless, up to 4 GPUs |
| Display outputs | HDMI 2.0 (Type A) + 3x Display Port 1.4 (HBR3/HDR) | HDMI 2.0 (Type A) + 3x Display Port 1.4 (HBR3/HDR) |