BUY ONLINE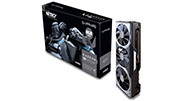 The SAPPHIRE NITRO+ Radeon RX Vega 64 and Vega 56 Limited Edition cards bring out the best of Vega architecture with factory-overclocked performance and an advanced custom cooling solution enshrouded in a captivating design.
Vapor chamber is back with style showing off the most efficient cooling to date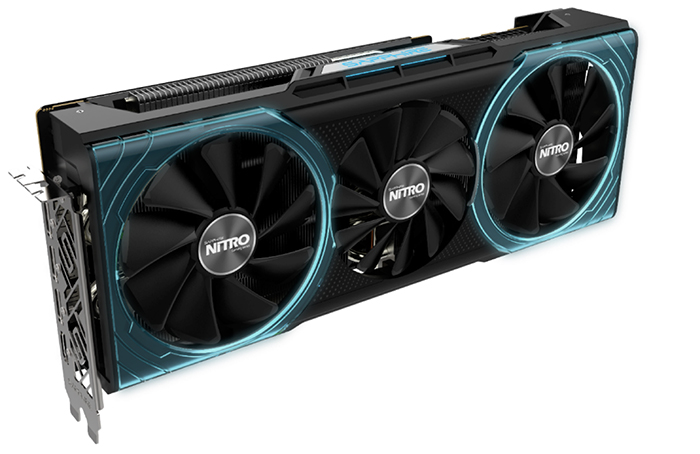 Key features:
Factory overclocked, up to 7% faster vs. reference models
Vapor chamber for the most efficient GPU cooling yet
System Fan Control for chassis fan management
New RGB LED shroud backlight
Card Support Bracket included
Enthusiast-level Performance
To drive the most demanding scenarios in gaming, the SAPPHIRE NITRO+ Radeon RX Vega cards come factory-overclocked. The NITRO+ RX Vega 64 model features a GPU with 4096 Stream Processors running with 1611 MHz Boost Clock. For the NITRO+ RX Vega 56, the chip features 3584 Stream Processors clocked in Boost at 1572 MHz. Both models come equipped with two stacks of 2nd generation High Bandwidth Memory, featuring 8 GB in total. The memory is clocked at 945 MHz – 1890 MHz Effective (Vega 64) and 800 MHz – 1800 MHz Effective (Vega 56). With these clocks, the SAPPHIRE NITRO+ RX Vega models achieve up to 7% better framerate compared to reference cards. If needed, both models can be easily switched to a 2nd BIOS for energy-saving Efficiency Settings using a hardware switch on the side of the card.
Vapor Chamber-based Cooling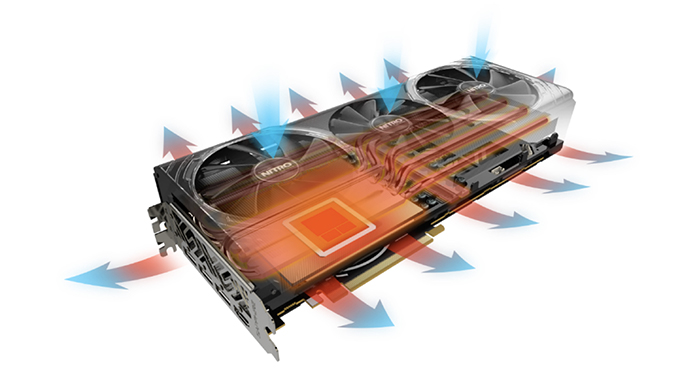 A custom-designed cooling solution used on two new NITRO+ RX Vega cards is SAPPHIRE's most efficient cooler to date. To get the operational temperatures of the GPUs down to the targeted 70°C, SAPPHIRE has brought back its innovative vapor chamber technology made famous through SAPPHIRE's Vapor-X series of graphics cards. Using this instead of the copper base on the GPU and HBM2 memory has lowered temperatures by up to 5°C. The vapor chamber is combined with a set of six nickel-plated heatpipes (three 8 mm and three 6 mm) and a substantial, densely-packed heatsink. Robust VRM cooling is achieved using a separate module with a dedicated set of two 6 mm heatpipes. Finally, heat is dissipated by a trio of efficient fans – two, slightly bigger, on the sides, running anticlockwise, and a smaller middle fan running clockwise to ensure optimal airflow. With the board featuring 14 phase digital power design and a powerful vapor chamber cooling system, SAPPHIRE NITRO+ has been designed to unleash the full potential of the AMD RX Vega GPU.