BUY ONLINE
Available for order
in February 2012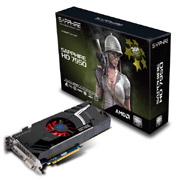 Single and Dual fan versions deliver choice of performance.
SAPPHIRE Technology has now added two exciting new models of graphics cards based on the revolutionary new graphics GCN (Graphics Core Next) architecture from AMD.
The new SAPPHIRE HD 7950 models are only the second family of graphics cards to incorporate the latest generation of GPU's from AMD built in a new 28nm process and featuring the new GCN optimised graphics processing architecture. The HD 7950 GPU has a new internal structure with 1792 Stream processors and a 384-bit high speed memory interface with over 264GB/sec memory bandwidth.
Two models are being introduced at launch. The standard SAPPHIRE HD 7950 ships with a core clock speed of 810MHz, slightly higher than the reference design, and a dual slot, single fan cooler. At the same time SAPPHIRE is introducing a high performance model, the SAPPHIRE HD 7950 OC Edition, which is factory overclocked to 900Mhz and features SAPPHIRE's new dual-extractor technology - Dual-X - a highly efficient multi-heatpipe cooler with dual fans providing quiet and very cool operation during normal operating conditions, and superb cooling performance even under extreme load. Both models have a large 3GB array of the latest DDR5 memory with effective clocks of 5Gb/s.
For enthusiasts wishing to maximise performance, a new version of the SAPPHIRE overclocking tool, TriXX supporting this latest generation of technology is available free to download from the SAPPHIRE website. TriXX allows tuning of GPU voltage as well as core and memory clocks, whilst continuously displaying temperature. Manual control of fan speed is supported, as well as user created fan profiles and the ability to save up to four different performance settings. Both of the SAPPHIRE HD 7950 models have a dual BIOS, allowing for further experimentation by the enthusiast. On the OC edition, the second BIOS is preprogrammed to allow a higher maximum overclock and more aggressive fan profile.
The HD 7000 series is the third generation of DirectX 11 compatible solutions from the graphics division of AMD - formerly ATI. The SAPPHIRE HD 7950 is ready for DirectX 11.1 and the new Windows 8 operating system as well as delivering all the features of the current DirectX 11 such as DirectCompute11 and multi threaded communications with the CPU. Communication with the host PC is optimised with the implementation of the latest high speed PCI-Express Gen3.0 interface, and multiple cards can be used to further enhance performance in CrossFireX mode on a suitably specified mainboard.
Working or gaming with multiple monitors is becoming increasingly popular, and the SAPPHIRE HD 7950 supports this with AMD Eyefinity. With its DVI, HDMI and two mini- DisplayPort outputs the card can support configurations of up to 6 monitors. In addition, the SAPPHIRE HD 7950 can simultaneously output multiple, independent audio streams allowing the correct audio content to be associated with different applications on different screens.
HDMI specifications have also increased in the HD 7000 series. Fast HDMI 1.4a supports Stereoscopic 3D with enhanced frame rates of 60Hz per eye - 120Hz total. It is also ready for the next generation of 4K displays that can be driven from a single high speed input of 3GHz HDMI 1.4a or DisplayPort 1.2 HBR2.
APP Acceleration is the name given to the enhanced performance of a wide range of applications using the stream processing capabilities and specific hardware features of the graphics architecture. The HD 7000 series has been optimised for this type of task. Typical applications include Video encoding and decoding, compression and multiplexing for media distribution, gaming or video conferencing. APP acceleration can also enhance everyday tasks such as Internet browsing, Office applications and file compression with supported software suites.
The SAPPHIRE HD 7950 and HD 7950 OC are now available through SAPPHIRE's established channel and etail partners.
Related news about SAPPHIRE products