BUY ONLINE
Ideal for corporate PCs and notebooks, the SanDisk X300s SED1 (Self-Encrypting Drive) is built on industry-leading (1) Ynm multi-level cell (MLC) NAND flash technology and incorporates hardware-based full disk encryption and advanced power management.
The X300s features support for the TCG Opal 2.0 and Windows® 8 eDrive security standards and a SATA DEVSLP low-power mode that is compatible with Microsoft® InstantGo. Users will appreciate greater productivity with more useable hours per battery charge (2) while companies can seamlessly secure their data for their on-the-go employees.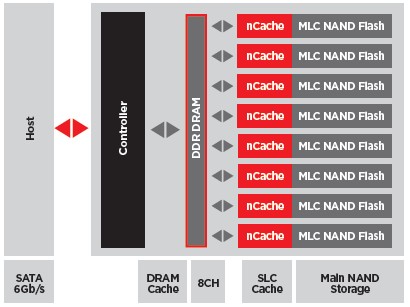 Performance
The X300s uses a tiered caching structure to improve random write performance. Modern operating systems typically access the storage device using small 4KB access blocks. These small access blocks conflict with the physical block structure (>1MB) of newer flash memory technology. To bridge this difference, the X300s employs three storage layers: Volatile cache – DDR DRAM cache, nCache™ – A non-volatile flash write cache, Mass storage – MLC NAND flash.
The nCache™ write cache is used to accumulate small writes at high speed then flush and consolidate them into the larger MLC section of the NAND flash memory array.
Security (3)
The X300s SED seamlessly encrypts the drive data on the fly using hardware-based 256-bit AES encryption. It supports the following industry-standard security specifications: ATA Security Feature Set, TCG Opal 2.0, Microsoft® eDrive (TCG OPAL 2.0 + IEEE 1667)
Thermal Throttling
A performance throttling technique is used as a safety measure to protect the integrity of the data and prevent excessive heat dissipation. The X300s employs an on-board thermal sensor to monitor the SSD's critical component temperature. If it exceeds the normal range, drive performance is reduced until the temperature decreases to an acceptable level, at which time full performance is restored.
Specifications
Form Factors: 7mm 2.5-inch Cased, M.2 2260
Capacities (4): 64GB, 128GB, 256GB, 512GB, 1TB
Interface: SATA Revision 3.1 (6 Gb/s) backward compatible to SATA Revision 2.0 (3 Gb/s) and SATA Revision 1.0 (1.5 Gb/s)
Sequential Read/Write: Up to 520/460MB/s
Random Read/Write: Up to 96/80k
Endurance (TBW) (5): >40 (64GB), >80 (128GB-512GB)
Latency Read/Write: 55/65μs
Active Power (W) (6): 0.12
Slumber(mW): 80 (64GB-256GB), 90 (512GB)
DEVSLP(mW) (7): 5.0 (64GB), 5.0 (128GB), 5.0 (256GB), 6.5(512GB)
Weight(g): 2.5" 7mm Cased: 51 (64GB-128GB), 55 (256GB-512GB); M.2 2280: 7 (64GB-512GB)
Operating Temperature: 0°C to 70°C
Non-operating Temperatures: -55°C to 85°C
Operating Vibration: 5.0 gRMS, 10 – 2000 Hz
Non-operating Vibration: 4.9 gRMS, 7 – 800 Hz
Operating/Non-operating Shock: 1,500 G @0.5 msec half sine
Certifications: FCC, CE, UL, ULc, TUV, KC, BSMI, ACA, VCCI


1 Also available in models without security support.
2 As compared to 7200 RPM SATA 2.5" hard drive. Based on published specifications and internal benchmarking tests.
3 The X300s is also available in models without security support.
4 Up to stated speed. Based on internal testing; performance may vary based on host device. 1 megabyte (MB) = 1 million bytes. IOPS = input/output operations per second. TBW = terabytes written.
5 Approximations based on SanDisk internal metrics that quantifies how much data can be written to an SSD in its lifespan expressed in TBW.
6 Power measurements 25°C. Based on FW version with HIPM-enable.
7 Typical power for 256GB product.