BUY ONLINE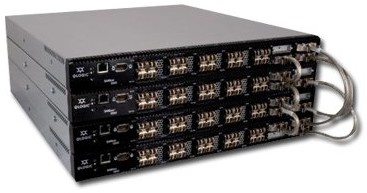 QLogic (Nasdaq: QLGC), the industry leader in Fibre Channel adapters and Brocade Communications (Nasdaq: BRCD), the industry leader in Fibre Channel switches, announced a broad technology alliance agreement that will enhance end-to-end storage connectivity for end users and accelerate innovation in Storage Area Networks.Under the terms of the agreement, QLogic and Brocade will:
Jointly develop capabilities to enhance Fibre Channel technology on an end-to-end basis with improved performance, manageability and reliability for enterprise customers
Align on product plans and testing to accelerate deployment of Gen 5 and Gen 6 Fibre Channel technology
Jointly market and evangelize advanced SAN solutions for the next-generation data centers
"Brocade and QLogic pioneered Fibre Channel and brought SANs into the mainstream enterprise," said Jack Rondoni, Vice President of Product Management, Brocade. "Both companies have a long history of delivering innovative, high-performance connectivity solutions to address enterprise IT needs, and with this agreement we will accelerate innovation for the next generation of storage networking.""QLogic and Brocade are in a unique position in the industry. Between our two companies, we have the ability to innovate on server, fabric and storage connectivity to deliver end-to-end optimized solutions for our customers," said Amit Vashi, Vice President of Products, Technology and Planning, QLogic. "Working together with Brocade will also allow us to accelerate the adoption of new SAN technologies and drive the future of Fibre Channel."In connection with the technology and marketing alliance agreement, QLogic also acquired Brocade's Fibre Channel and converged network adapter business. This further extends QLogic's market leading adapter offerings and ensures continuity of supply to current Brocade customers. This acquisition is not expected to have a material impact on the operating results of QLogic.