BUY ONLINE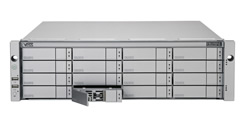 VTrak x30 10G iSCSI is Reliable, Cost-Effective Alternative to Fibre Channel; Vess R2000 Solution Offers Unified Storage with Fibre Channel, iSCSI and NAS Host Connectivity
PROMISE Technology, a global leader in the storage industry that develops solutions for the surveillance, rich media and cloud/IT markets, announced new additions to its popular VTrak and Vess lines of storage solutions: the VTrak x30 10G iSCSI and Vess R2000 10G iSCSI models. Attendees of Interop 2014 can learn more about the new VTrak and Vess solutions by visiting PROMISE's product showcase at booth #1161 at the Mandalay Bay Convention Center in Las Vegas.

As datacenters approach 40G and 100G speeds and the adoption of 16G fibre channel increases, 10G iSCSI is a cost effective and complementary technology for expanding cloud infrastructure needs. The new VTrak x30 8G fibre channel storage system meets the needs of enterprises for applications such as virtualization, backup and cloud computing and offers customers high levels of reliability, performance, and ease-of-use, making it ideal for IT infrastructures that need a cost-effective alternative to fibre channel. The VTrak x30 has dual active/active RAID controllers, quad 8Gb FC ports or two 10GbE ports, and 4GB cache. The new 10G iSCSI VTrak solution extends the PROMISE VTrak x30 series, which also includes fibre channel solutions that have been deployed by some of the world's most advanced datacenters. With the traffic and size of datacenters continuing to grow at a rapid pace, there is an increasing demand for cost efficient cloud infrastructure support. The new VTrak x30 10G iSCSI can be deployed to complement non-mission critical fibre channel environments - providing enterprise-level performance at an affordable price point. Additionally, with 10G iSCSI infrastructure widely used in backup and virtualized environments, the VTrak x30 10G iSCSI solution is ideal for customers who plan to virtualize their IT infrastructure and move into the cloud. VTrak x30 is VMware vSphere ESX Server v5.1 and VAAI certified and has heterogeneous OS support for Mac OS X, Windows, and Linux.

Ideal for virtualized environments, backup, and general file sharing applications, the new Vess R2000 10G iSCSI dual active-active model includes support for the dual active-standby NAS feature, which enables small and medium-sized businesses (SMBs) to explore broader storage applications and possibilities. The Vess R2000 is a unified storage solution with Fibre Channel (8Gbps), iSCSI and NAS (1Gbps & 10Gbps) host connectivity in one box that can be used to meet various application challenges and requirements in today's heterogeneous IT environment. As a NAS solution with dual controllers in a single box, the Vess R2000 saves costs and space over traditional single controller NAS devices that provide a cluster NAS solution for high availability which limits expansion capabilities, doubles the system configuration required, and doubles the total amount of disks. Additionally, the Vess R2000 Series now supports VMWare VAAI which reduces resource overhead on VMWare vSp here ESXi hosts, significantly improving performance for storage-intensive operations such as storage cloning, zeroing, and more.

"PROMISE has been protecting the digital assets of some of the world's most advanced data centers for years, and we're pleased to offer new solutions that provides users with more flexibility when building their IT infrastructure," said James Lee, CEO, PROMISE Technology. "The new Vess and VTrak models offer high-performance and reliability in solutions that are designed for versatility, ease of use and low total cost of ownership."