BUY ONLINE
Pre-order is required

Industry-leading solutions for surveillance, cloud and media & entertainment storage initiatives deliver breakthrough results.
PROMISE Technology, Inc., a leader in providing high-performance storage solutions for the data center, surveillance, cloud and rich media markets and the leader in designing cutting-edge Thunderbolt™ enabled devices, announced VessRAID 2000, the latest expansion of its VessRAID line of industry-leading storage for CCTV and surveillance along with a dramatic addition to its internationally award winning Thunderbolt™ enabled Pegasus storage solutions, the J4 high-performance JBOD supporting both 2.5" HDD and SSD's. PROMISE also announced their revolutionary SmartStor Private Cloud Solution featuring NSx700 series NAS family, the perfect complement for the SMB professional.
Tweet this: #PROMISE Technology Europe Announces Exciting Storage Options at CeBIT,
"We are very excited to be able to debut these dynamic expansions to our storage solutions at CeBIT," said John Van den Elzen, Managing Director, PROMISE EMEA. "Our ability to provide high-performance, cost-effective solutions to our customers is a tradition we have embraced for over two decades. These evolutionary new products are a testament to our continued dedication to bringing to market storage solutions that provide our customers with outstanding total cost of acquisition as well as the industry leading technologies they demand for their business critical applications and initiatives."
The VessRAID 2000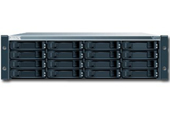 The VessRAID 2000 series storage systems are PROMISE's next generation 8Gbps & 10Gbps IP SAN solutions designed to provide SMB's with optimal performance, proven reliability and total component redundancy for today's mission critical applications at a very competitive price point.
Highlights of the VessRAID 2000 Series:
Both 1Gbps & 10Gbps host connectivity
8Gbps Fibre Channel
High-availability dual controller design
Ability to scale up to 112 HDD

Pegasus J4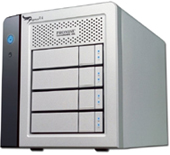 The Pegasus J4 JBOD is the latest addition to the PROMISE line of award winning Thunderbolt-enabled storage devices designed for media and entertainment professionals, providing the flexibility of on location or in suite storage and management capabilities for their highly valued digital assets. The J4 provides outstanding expansion capabilities by leveraging either traditional HDDs or the latest generation of SSD's. PROMISE Pegasus J4 is the world's first 4-bay NON-RAID JBOD featuring a stylish portable compact enclosure designed to unleash the raw power of Thunderbolt technology. Thunderbolt technology is a new, high-speed, dual protocol I/O technology designed for performance, simplicity, and flexibility.
Highlights of the Pegasus J4:
Slick portable Small Form Factor (SFF)
High Performance JBOD (Just a bunch of Disks)
Supports 2.5" HDD or SSD
Daisy-chainable (example: connect to Pegasus R Series)
Compatible with MAC OS X RAID Solution (Disk Utility)

SmartStor Cloud – Cloud in Your hand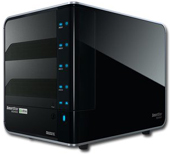 The SmartStor Cloud solution is designed especially for use in SMB, school, government and similar data environments. The benefits of private and public cloud services are combined in a device that features PROMISE enterprise RAID technology – enclosed in a system under your control – ensuring that your data is safe, synchronized and available wherever you need it.
Highlights of the SmartStor Private Cloud Solution:
Data Synchronization to all devices
Data Protection by enterprise proved RIAD Engine
No Hassle Data Sharing.
Smart Version Control and Recovery.
Three-Step System setup.
Support iOS and Android mobile devices.
System Backup/Recovery to second backup site.
Connect to selected public cloud storage services.
Sync documents between computers and mobile devices (such as iPad and iPhone) to the SmartStor Private Cloud Solution featuring NSx700 series NAS
Collaborate with colleagues via one click sharing
Track document history and changes
In addition to these outstanding products other selections from its rich portfolio of storage solutions will include: PROMISE SANLink, the industry's first Thunderbolt™ to Fibre Channel Adapter and perennial customer favorite, the PROMISE VTrak® x30 Series, the only qualified storage solution for Apple's Mac OS X.
Conference attendees wishing to evaluate the most advanced, high-performance and cost-effective storage solutions that can dramatically increase the effectiveness of their storage capabilities should visit PROMISE on the CeBIT floor, Hall 2, Stand B54.
Read more about PROMISE products