PRESS RELEASE
Prestigio Unveiled 17-Inch Widescreen LCD TV with Integrated DivX Player
Limassol (Cyprus), February 21, 2007 — Prestigio Technologies Ltd., a dynamic international vendor of state-of-the-art products for Digital Home and Digital Office, today announced the availability of a new trendy 17-inch LCD TV with integrated DivX player. The new device features 16:9 widescreen LCD panel and stylish silver-black cabinet. The new product is immediately available at Prestigio dealers' stores across Central and Eastern Europe, Middle East and Africa.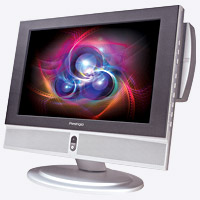 Perfect for watching standard and high definition TV programs in smaller rooms, the 17-inch Prestigio LCD TV P170DVD-X can also be used as a PC monitor. This trendy TV is equipped with an integrated DivX player, and features state-of-the-art technology to provide vivid and realistic images from analogue and digital TV sources, DVDs, camcorders and game consoles. The P170DVD-X has a sleek silver-black cabinet and a steady table stand.
The new Prestigio TV is equipped with an A-grade wide-screen 16:9 panel for watching movies in their native format. The panel has a response time of just 8 ms providing for smooth play of fast-moving video. The image is enhanced thanks to the 4H digital comb filter which minimizes edge image artifacts and improves transition detail.
The built-in DivX player is a slot-load device that not only plays DVD movies (including DivX encoded movies) but also video CDs, MP3s, music CDs, and JPEG photo files. This Prestigio LCD TV includes a full-function remote control for effortless navigation. The PC VGA input allows to connect it to a computer for use as a high-resolution monitor.
Two built-in 2-Watt speakers pump out great crisp stereo sound which can be easily adjusted through the 5-band graphic equalizer. The 10-page teletext allows the user to keep up to speed with the TV program schedule.
The combination of screen size, enhanced features, and many viewing options makes the P170DVD-X a smart choice and a highly attractive element in any smaller living area.
All Prestigio LCD TVs are covered by 2-year international limited warranty.
Main Product Features
– Screen size: 17 inches
– Viewable angles: 140º (Left/Right), 140º (Up/Bottom)
– Contrast ratio: 700:1
– Brightness: 300 cd/m2
– Resolution: 1280 x 1024 pixels
– Response time: 8 ms
– Audio system: Built-in speakers 2 x 2W
– Weight: 7.9 kg
– Connectors: SCART, S-Video, A/V In, PC Input (D-Sub), PC Audio, Headphones (Out)
– Supported formats: DVD-Video/DVD-R/-RW/+R/+RW, Super VCD/VCD/CD/CD-R/RW, MP3 files / WMA / Picture CD / JPEG Files
Recommended retail price for Prestigio LCD TV P170DVD-X in the EU (with VAT): Euro 327
Prestigio LCD TV P170DVD-X photos are downloadable from here:
http://marketing.prestigio.com/PR/Pictures/LCD-TV/P170DVD-X/Low-Rez/P170DVD-X_3-4_800_20feb07.jpg
http://marketing.prestigio.com/PR/Pictures/LCD-TV/P170DVD-X/Low-Rez/P170DVD-X_front_800_20feb07.jpg
http://marketing.prestigio.com/PR/Pictures/LCD-TV/P170DVD-X/Hi-Rez/P170DVD-X_3-4_300_20feb07.tif
http://marketing.prestigio.com/PR/Pictures/LCD-TV/P170DVD-X/Hi-Rez/P170DVD-X_front_300_20feb07.tif
About Prestigio
Prestigio Technologies Ltd. is a highly dynamic IT company providing Digital Home and Office consumer solutions to the market. Having started as a small R&D subsidiary of ASBIS Group, during the last several years Prestigio has become a supplier of unique hi-tech solutions and products to consumer market. Digital Home and Digital Office are the two main focus areas of the company. Investing in the combination of "The Art of Hi-Tech" (solutions where hi-tech products become works of Art), the company has uniquely positioned itself on the market. Currently headquartered in Cyprus, Prestigio actively operates in the EMEA region through representative offices and business partnerships located in key business centers of the region and offering its customers an excellent portfolio of cutting-edge IT products and value-added services.
For more information please visit www.prestigio.com.
All trademarks and registered trademarks are the property of their respective owners.