Prestigio Technologies Ltd., a dynamic international vendor of state-of-the-art products for Digital Home and Digital Office, today announced the release of a new widescreen 19-inch monitor Prestigio P3190W. The new product is immediately available at Prestigio partners' stores across the countries of Central and Eastern Europe, Middle East and Africa.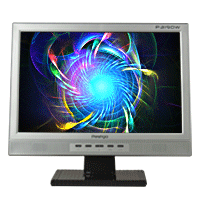 Prestigio P3190W is an advanced 19-inch widescreen LCD monitor with more than exciting image quality. Its Glare Type WXGA panel offers true-to-life super sharp image with 500:1 contrast ratio and a smooth reproduction of fast-moving scenes with an impressive response time of just 5 ms. The monitor is fully suitable for efficient office work and active home entertainment, including movies and gaming.
This attractive next-generation LCD monitor provides a wider viewing area accommodating more visual data without scrolling as compared to a regular 19-inch display. Thus, it can be recommended to those professionals and home users who need a more comfortable way of dealing with large amounts of data, such as spreadsheets, large images, etc. Prestigio P3190W is also equipped with a digital DVI-I connector ensuring the highest quality of digital imagery.
The unit features a nicely designed slim panel, an elegant and stable space-saving stand, sleek control buttons and integrated stereo speakers. The attractive design of the monitor makes it a welcome element of any modern office or home interior. The new monitor is available in two color modifications. P3190BW sports trendy stealth-black design, while P3190SW offers classic silver appearance.
All Prestigio monitors are covered by a 3-year international limited warranty.
Main product features:
– Widescreen Glare Type WXGA panel
– Maximum resolution 1440×900
– Brightness: 300 cd/m2
– Wider viewing area accommodates more visual data without scrolling
– Wide viewing angles: 150 degrees (H), 130 degrees (V)
– True-to-life super sharp image quality with 500:1 contrast ratio
– Very fast 5 ms panel for smooth video and gaming experience
– Unmatched price/quality ratio
– Weight: 6.2 kg
Detailed product features can be found here:
http://www.prestigio.com/products/show.cfm/monitor/Performance%20monitors/P3190BW
http://www.prestigio.com/products/show.cfm/monitor/Performance%20monitors/P3190SW
Product photos are downloadable from here:
http://www.prestigio.com/models/P3190W/P3190BW_3-4_800x600.jpg
http://www.prestigio.com/models/P3190W/P3190BW_3-4_300dpi.tif
http://www.prestigio.com/models/P3190W/P3190SW_front_800x600.jpg
http://www.prestigio.com/models/P3190W/P3190SW_front_300dpi.tif