BUY ONLINE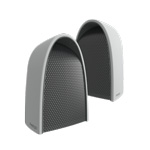 Supreme
What makes Prestigio Supreme unique? This stereo speaker combines high-power and clear sound in a magnetic case that can be separated into two parts. Install two speakers in different corners of the room and get surround and immersive sound, or combine them into one 16W speaker for maximum sound.
Supreme is equipped with a battery that guarantees up to 15 hours of non-stop music playback. It is a perfect choice for a pleasant pastime or a noisy party. Create a playlist of your favourite songs, or trust the musical taste of your friends who can play their tracks using a smartphone and Bluetooth module. The range of the wireless connection is 36m outdoors and 10m indoors.
Due to the True Wireless Stereo function, the Supreme speaker will fill any space with an incredible deep sound and assist you to create a pleasant atmosphere at any party.
Prestigio Supreme provides not only high-quality sound, but also voice-assisted support for Siri and Google Now, so you will always be abreast of events. Ask your virtual assistant to set an alarm, tell you the weather forecast, or read the latest news while you're going to work or at an important event.
Among the features of the portable speaker, it is worth noting the voice connectivity function, which makes it possible to receive calls even while listening to the music. The music will stop playing when you answer the call, and after completing the call the audio will continue to play automatically.
The speaker itself has an oval shape, and its smooth lines emphasise an elegant design, thought out to the last detail. This model is available in three colours: red, white, and black. The case is framed with silicone, which is smooth to the touch. This prevents the speaker from slipping out of your hands, and the metal carbine makes it easy to carry to your destination.
Prestigio Supreme ensures memorable meetings with your friends.

About Prestigio
Prestigio is an international brand that has been offering a wide range of consumer electronics for home, education, and business for more than 15 years. The company sells products in 30 countries around the world, with over 25 million devices sold during its history.
The brand's products include smart devices and accessories, innovative solutions for business and education. Prestigio introduced the world's first interactive keyboard with touchpad on keys, as well as smart speakers, portable acoustic systems, hidden wireless chargers, graphene-based power banks, and this is just the beginning. The company's slogan for launching new products is 'The art of hi-tech', as special attention is paid to innovation, high-quality premium materials, and modern technology.
The Prestigio brand is owned by ASBISC Enterprises Plc., one of the leading IT product distributors in the EMEA markets. It has production, design, and technical facilities in Europe, China, and Belarus. Prestigio has offices in 15 countries in various regions, including the CIS, Ukraine, Europe, Middle East, and Africa.