Devices from the new Prestigio Multiboard Light family brings together all of the basic interactive functions for presentations, collaboration, and wireless communication. They will become the core of smart meeting rooms or special classrooms for interactive and even remote learning.
Excellent hardware potential
The Multiboard Light interactive panels are powered by the Android operating system and a quad-core processor with a maximum frequency of 2.8 GHz, which ensures great performance and speed.
As with all other Prestigio Multiboard models, the display and image quality take the spotlight. The Multiboard's touchscreen is the best in its class and supports 20 touch points and 10 simultaneous writing points, including a feature that allows users to write in two different colors at the same time. The UHD 4K resolution delivers stunningly deep, true-to-life images. The devices also have special light sensors, which help to adapt to any lighting conditions. In addition, the high display brightness and contrast make it possible to use the devices even in bright sunlight.
On top of that, the new interactive whiteboard family is equipped with an impeccable audio system, with two tweeters and one woofer (2.1 sound). This provides a wider frequency range and surrounds the audience with an immersive virtual sound, which ensures ultimate comfort when listening to audio content or joining a video or audio conference.
Simple solution for collaborative projects.
The Prestigio Multiboard Light has multiple ports for connecting additional devices, computer peripherals, and USB drives. Notably, some of the ports (including USB Type-C) are located on the front panel, letting users connect or charge any types of devices they might need for presentations or video conferences with maximum ease.
The Multiboard Light interactive panels can also be used as Wi-Fi access points, for quickly and effortlessly sharing a network connection.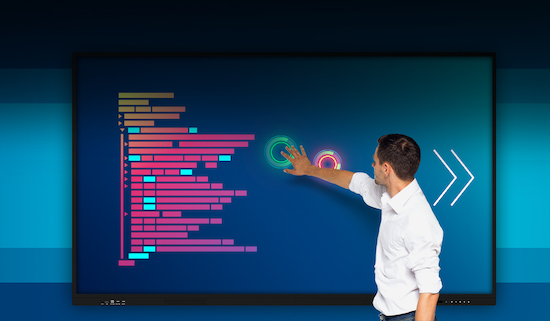 Support for personalized solutions
By default, the Multiboard Light devices come with preinstalled applications for writing, screen sharing with other devices, remote control of the Multiboard, and more. All of this ensures convenience when the users get down to collaborative work or presentation sharing.
The new interactive panel's family's main defining feature—and key advantage—is support for additional solutions. This makes the devices fully customizable for the user's needs. For example, if required, Multiboard Light optionally can be linked to an embeddable PC, powered by a powerful Intel® Gen 10 Processor, which will have a preinstalled Prestigio Multiboard application package for business and education, including the mozaBook Classroom SW with a free license for a whole year. In addition, installing a licensed Windows OS on an additional PC will open even more collaboration opportunities, not to mention letting the user install the desktop versions of the familiar apps for video conferencing and remote meetings: Teams, Skype, Zoom and so much more.
Modern design and anti-vandalism features
The Prestigio Multiboard Light interactive panels will come in two most popular screen sizes: 65 and 75 inches. And thanks to their neat design, these devices will fit easily into any room. There is no need to worry about the device's safety either: the metal case and the tempered glass will provide a high level of protection from any external impact. Moreover, the presence of a lock of the sensor and buttons will protect your data from outsiders.
Prestigio Multiboard Light is a simple and affordable solution that can transform any room into a modern interactive space within minutes! And finally, Prestigio customers are in for another pleasant bonus: an extension of the default warranty from one to three years!
| | | | |
| --- | --- | --- | --- |
| | To get more information | | |