POINT OF VIEW, well known for its range of nVidia based Graphics cards, has launched the upgraded version of one the best cards ever, the GeForce 8800 GTS.
Just like its predecessor, this GeForce 8800 GTS graphics card will be a double-slotted card with a high performance cooler. You may recognize this cooler structure from the GeForce 8800 Ultra, which is already famous for its incredible cooling capacity.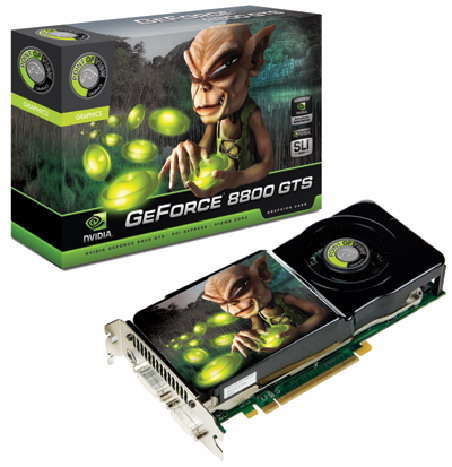 Besides the exterior, also the interior is heavily upgraded. A better, faster and less power consuming core will do its work on 650Mhz while the 256-bit memory bus is powering 512 Mb of super fast 1.0ns DDR3 memory, running on a ravishing 2 Gigahertz! Also not unimportant is the shaderclock, which has a mad speed of 1625Mhz.
With the faster core, shader and memory, this card will run all your games, movies and other multimedia applications as smooth as a baby! This new core also supports even faster and clearer playback of high definition content. Enjoy your Blu-ray or HD-DVD movies through the NVIDIA PureVideoHD technology!
As all cards from the GeForce 8 family, the GeForce 8800 GTS 512MB has a full support for:
• Shader model 4.0
• Microsoft DirectX 9 and 10
• All efficiency improving functions of Vista such as Windows Sidebar
• High Definition content with the NVIDIA PureVideo HD technology.
As a cherry on the pie, Point of View also will release a factory-overclocked version of this already killer-card. The Point of View 8800 GTS 512 MB Exo Edition will have a core boosted up to a raging 700 Mhz, a Shader clock doing its work on 1750 Mhz whilst the memory will keep running on an already high-speed of 2000Mhz.
The new GeForce 8800 GTS 512MB as well as the GeForce 8800 GTS 512 MB Exo Edition are definitely worthy successors. If you want to stay ahead of the competition, get your head start with the GeForce 8800 GTS 512MB card!
These cards are available from today and as a bundle with MotoGP '07 or Settlers VI: Rise of an Empire, depending on your location and sales point. Visit the "Where to Buy" section of our website for a sales point in your country.
Order Point of View products on ASBIS' B2B Online Marketplace