BUY ONLINE
Available for order
in July 2010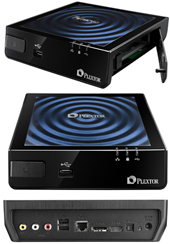 Plextor announced its new networked media player PlexMedia, as well the compatible PX-B120U external BD-ROM drive, at Computex 2010 in Taipei, Taiwan.
The PlexMedia is the first networked media player that can be connected to an external USB BD-ROM drive, making it possible to watch high-definition Blu-ray discs in your living room without having to purchase a Blu-ray disc player.

Simultaneously with the media player, Plextor also launches the PX-B120U, a compatible external BD-ROM drive.
Plextor is also showcasing the PX-B310U is an external USB 2.0 BD-COMBO drive. The drive supports 16X burns on single layer DVD±R media (4.7GB), 8X burns on double/dual layer media (8.5GB) and 12X on DVD-RAM media. PlexUtilities allows users to view basic and advanced drive information and also offers high quality audio and multimedia capabilities. PlexUtilities offer automatic software and firmware updates, PlexErase and PlexRead for smooth video playback of damaged or scratched discs.
Also at Computex, Plextor is showcasing its complete Blu-ray disc drive portfolio, including its PX-B940SA 12X BD Writer and PX-B320SA 8X BD Combo.
Also being showcased are the recently-introduced Networked Attached Storage device (NAS), and a new portfolio of Solid State Drives (SSD). The two-bay NAS drive will be followed up with a four-bay NAS solution for small to medium-sized businesses. By adding this new NAS system, Plextor aims to provide storage solutions for both home users as well as professionals.
Plextor also announced its new portfolio of SSDs at Computex. This includes a new series of SATA 6Gbps drives: the PX-256M2S, the PX-128M2S and the PX-64M2S. The drives come in sizes of 64, 128 and 256MB, respectively. They are based on a Marvell 8-channel flash controller and will feature 128MB of DDR3 cache memory. What's more, the new SSDs will support TRIM and global wear levelling to keep the SSDs' performance high, as well as the ONFI 2.1 chip-level standard interface specifications. ONFI 2.1 offers simplified flash controller design, but pushes performance levels to a new range ?166 megabytes per second (MB/s) to 200 MB/s. In addition, ONFI 2.1 offers improved ECC communication and enhanced power management by allowing the the host to stop the clock during writes to the NAND. The result is power savings of up to 10s of milliwatts.
Plextor will launch both MLC and SLC format SSD drives later in 2010.
The SSD drives complement Plextor's range of storage products, which will also consist of a new lineup of external Hard Disk Drives. At Computex, Plextor is showcasing its new generation of portable USB 3.0 and e-SATA Hard Disk Drives.