PX-L611U Available On Week 2 Price List

The PX-L611U is an external DVD writer offering the convenience of a dependable DVD and CD burner in a highly portable package. It writes DVD+/-R at 8x, DVD +/-R DL at 6x, DVD+RW at 8x and DVD-RW at 6x. And with LightScribe Direct Disc labeling, users can burn customized labels on any LightScribe compatible discs.
This highly-compact drive is light and slender. It weighs a mere 350 grams, and its dimensions are only 137 mm long by 137mm wide, and just 22mm thick. Its size makes the drive ideal for business professionals and students needing transportable but reliable media burning and DVD movie playback. Further convenience is provided through the use of a unique single USB port and battery combination to power the unit eliminating the need to carry an AC adapter for the drive.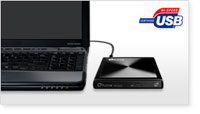 Reliable hardware is enhanced by a strong software bundle including PlexUtilities. This easy to use, but powerful application has multiple uses, like testing and quality measurement of user written or pressed media, advanced drive and disc information, control and fine-tuning of the drive. NERO 9 Essentials is bundled to include high-quality applications for DVD burning, CD burning and media playback.

The key features of lightness and slimness, combined with PlexUtilities and the single USB port power source make the PX-L611U a highly-efficient portable DVD burner.

More info and specs: http://www.plextor-digital.eu/index.php/en/Portable-DVD+/-RW/px-l611u.html

Related news about Plextor products