Next generation Intel microarchitecture code name Ivy Bridge processors and Ultrabook devices.
The world of computing is in the midst of a sea change.Some might call it a "strategic inflection point." You can see it all around, especially in the massive growth of device types - smartphones, tablets, hybrid devices, e-readers, netbooks, Chromebooks. It's a time of great creative ferment. The variety of all of these different devices is changing how people think about computing. In terms of the devices themselves, Intel is working hard to bring the benefits of Intel technology not only to improve the overall mobile experience, but to revolutionize it.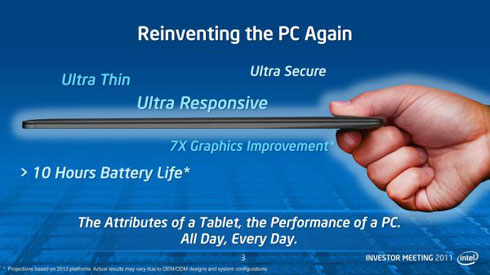 In case you didn't catch it, one of the more interesting recent disclosures related to this happened at Computex last month in Taiwan. Intel's Sean Maloney and Mooly Eden provided further details on the significant changesIntel is making to the Intel Core processor roadmap to enable a new mainstream line of mobile computers, called Ultrabook. This new breed of devices will combine best in class performance, responsiveness and security in thin and light, elegant form factors. Eventually you'll think of an Ultrabook as a tablet when you want it, a PC when you need it. This is an historic change that Intel believes will redefine the computing experience. Intel has been mapping out these changes over the past several months and they aren't trivial. They will impact the physical shape and capabilities of personal computing devices and require substantial changes to the way Intel and its partners design, produce and market devices and their components. Intel President and CEO Paul Otellini said that he's pleased with the industry response and customer commitments around this new product category. Sean and Mooly explained that Ultrabooks will arrive in phases. Phase 1 was kicked off when Intel introduced its latest Ultra-Low Voltage 2nd Generation Intel Core processors in June that will bring new systems to shelves this holiday season. Phase 2 centers around the next generation Intel microarchitecture code name Ivy Bridge processors scheduled for availability in systems in the first half of 2012. Laptops based on Ivy Bridge will bring improved power efficiency, smart visual performance, increased responsiveness and enhanced security. Faster I/O such as USB 3.0 and Thunderbolt technologies are also part of Intel's ongoing work to drive the PC platform forward. Intel microarchitecture code name Haswell is the third phase toward accelerating the Ultrabook and reinventing the capabilities of the laptop in ultra thin and light, responsive and secure designs. With Haswell, Intel will transform the computing experience with more power efficient processors that allow a more dynamic experience in insanely sleek systems.
In late 2011, you'll begin to see systems that offer:
Thin/light designs
Less than 21 mm thick - some much thinner than even that.
Ultra-fast start up
Intel Rapid Start Technology gets your system up and running faster from even the deepest sleep, saving time and battery life.
PC wakes up almost instantly - Quick access to your data and applications
Extended battery life
Ultrabooks will offer 5 hours of battery life even in the sleekest form factors with some systems delivering 8 hours or more for all-day usage.
Security enabled
Bios/Firmware enabled to expose hardware features for Intel Anti-Theft Technology and Intel Identity Protection Technology
Intel has a strong track record in delivering innovation and growth in computing by employing our core assets of architecture, engineering, and manufacturing leadership. Intel transitioned to multimedia instructions with Pentium in 1995 and the mobile PC market with Centrino in 2003. Intel is confident Intel has the right set of technologies to influence a major change once again.

Related news about Intel products