Today the skilled technical and support staff is highly demanded within the enterprises. According to data, given by the US Bureau of Labor Statistics, the expansion of technology usage will lead to more rapid growth of jobs in computer and information systems from 2020 to 2030 for all occupations. More and more companies are using iPhone, iPad, and Mac in their workflows - and therefore more companies need IT specialists who are able to support and manage Apple products.
In response to steadily growing demand, Apple has updated its professional training and certifications for IT support and management. The training was revised and presented in a new online format to enable users to self-study. Now, in order to pass the Apple certification, users need to prove their competence by passing two new exams.
Both the Apple Deployment and Management and Apple Device Support courses are available for free on training.apple.com, and each end-of-course certification exam a user takes to validate competency is worth $149. The training courses are designed sequentially, and the concepts become more complex as the user gains new skills. Corresponding digital Apple badges are assigned to the user upon completion of each course. Apple Certifications become a visible marker for employers, appearing on online profiles and professionals' resumes, helping them quickly find qualified candidates.
Apple's device management and security company Jamf says the number of professionals who manage Apple products at work has increased 2.5 times over the past five years since 2017. And today this community of professionals has more than 100,000 members.
The Apple Device Support course is the first in a new series of professional IT training. The course is approximately 14 hours long and consists of informational materials and guided exercises. As part of the training, users will learn about services, tools, and best practices that are used in their work by technical coordinators, support specialists, and service providers for Mac, iPhone, and iPad users in the organization. At the end of the training, users can take an exam to earn the Apple Certified Support Professional certification.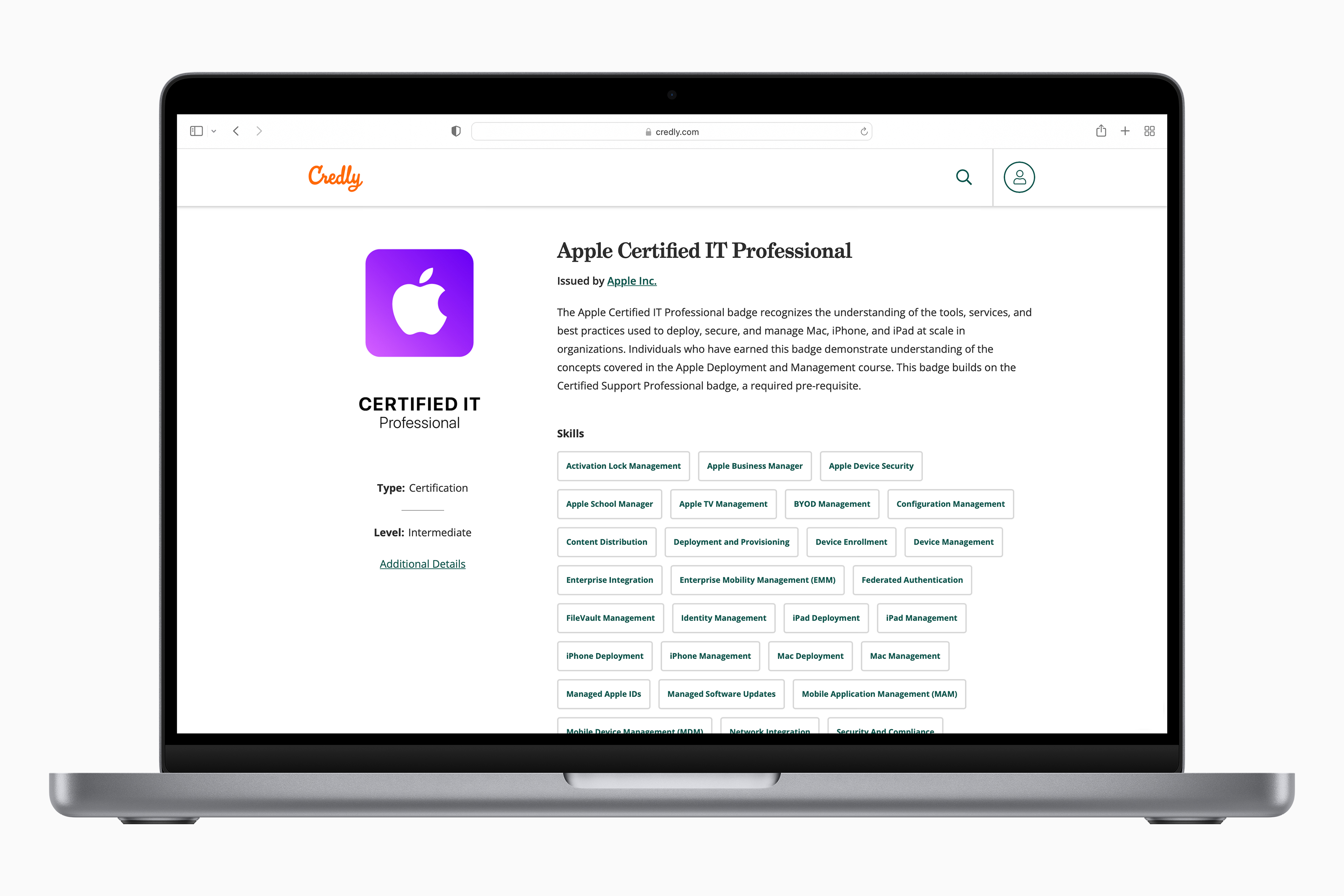 The Apple Deployment and Management course is the second level of training, which includes about 13 hours of content. Users learn how to configure, manage and secure Apple products with MDM (Mobile Device Management), develop deployment strategies, and work with Apple School Manager and Apple Business Manager. Successful completion of the training exam will earn the user an Apple Certified IT Professional certification.
In an effort to make Apple Professional Training Courses Certification accessible to those who want to take a step forward in their careers or who are just starting out, Apple works with local universities and colleges to provide on-campus training to prepare for certification. Similar preparation for Apple certification exams is offered by Ed Farm, an educational non-profit organization based in Birmingham, Alabama. As a part of the financial support, Apple covers the cost of exams for students through its own Community Education Initiative (CEI) and partner organization Mac Admins Foundation.
Start your Apple Professional Training courses at training.apple.com.