BUY ONLINE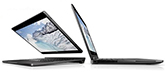 Dell has announced at CES 2016 an expanded selection of Latitude commercial devices that combine industry-leading security, manageability and reliability features business customers demand with the stunning design, InfinityEdge display and premium materials employees crave. Adapted from the company's successful line of XPS consumer devices, the new additions across the Latitude and UltraSharp display lines represent the most comprehensive commercial products redesign in company history and demonstrate Dell's commitment to delivering an unmatched experience to satisfy and impress today's mobile business professional.
"For more than 20 years, Latitude products have been a leading choice among commercial customers worldwide for their unmatched security, manageability, reliability and support features," said Kirk Schell, vice president and general manager, commercial client solutions, Dell. "With the new Latitude line, we are delivering commercial devices employees will desire for being thinner, lighter and more capable than many of the most popular consumer products without compromising on the security and manageability requirements of IT."
In addition, Dell's commercial customers indicate they plan to upgrade to Windows 10 Pro sooner than they did with previous Windows operating system updates. Windows 10 offers the familiarity of Windows 7 with the touch-friendly features of Windows 8.1, so new devices such as 2-in-1s will provide a better user experience. Furthermore, Intel and Dell engineers developed a deep partnership to create a system that includes the latest Intel vPro processors to usher in premium platforms that will change the way businesses operate when it comes to collaboration, security and productivity. "Combining these advances with Dell's innovative small, portable commercial product designs, there has never been a better time to upgrade," said Schell.
Latitude 13 7000, Latitude 12 7000, Latitude 11 5000: beautiful design and features that impress
The Latitude portfolio was founded upon business-class security, manageability and reliability. The entire Latitude 3000, 5000 and 7000 Series has been completely refreshed with thin and light designs, excellent efficiency and powerful processing options. Dell has elevated its commercial lineup by taking design cues from its highly acclaimed XPS line, so commercial customers can enjoy the same sleek form factor and unique materials that deliver light weight and rigidity throughout the lineup. With an emphasis on creating beautiful products that people will be proud to carry, the addition of the Latitude 13 7000 Series Ultrabook™, Latitude 12 7000 Series 2-in-1, and Latitude 11 5000 Series 2-in-1 build off of the key pillars that IT demands while offering the high performance needed for today's fast-paced and demanding work environments.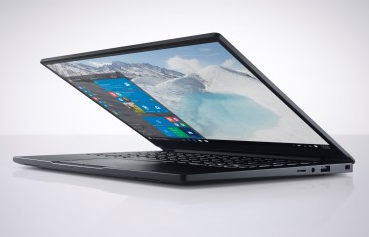 The Dell Latitude 13 7000 Series Ultrabook™ is the world's smallest 13-inch business-class Ultrabook. Built using layers of unidirectional 40 ton carbon fiber, the same materials used in applications like spacecraft and aerospace, the Latitude 13 can endure the rigor of heavy business-use while maintaining an attractive allure (a machined aluminum option is available as well).
The world's only business-class Ultrabook with InfinityEdge display, the ultra-thin bezel around the screen creates an enjoyable and exquisite viewing experience for presentations, documents and videos. In addition, the Latitude 13 contains the industry-standard USB Type-C allowing one cable for docking, power, video, audio and data. It also includes Thunderbolt™ 3 for 8x faster data transfer than USB 3.0 allowing end users to power two 4K displays simultaneously.
A perfect fit for on-the-go employees, the laptop offers extended battery life and offers advanced security features – including a smartcard reader, fingerprint reader, RFID reader, and security and encryption software.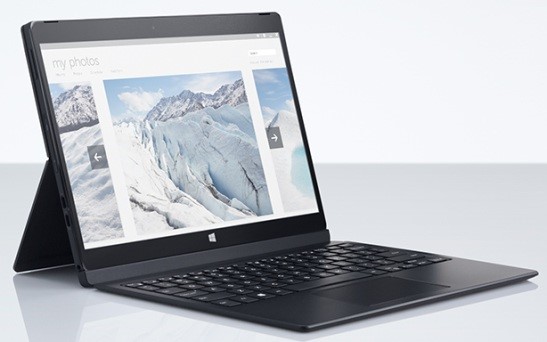 Built for the mobile elite professional, the Dell Latitude 12 7000 Series 2-in-1 is one of the lightest 12.5-inch 2-in-1s available and provides the best of both worlds for those who want the full functionality of a laptop, in performance and design, easily converted into a tablet.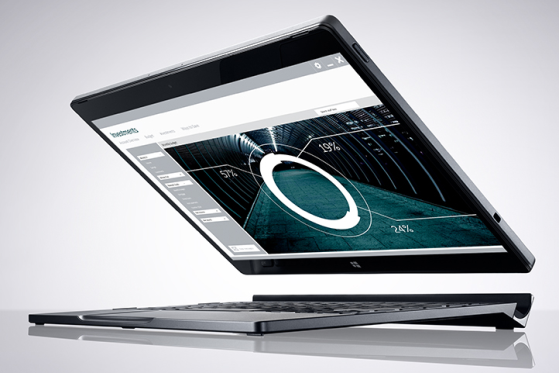 The unique design is free of cumbersome latches, locks or alignment pins, and instead uses magnets; easily transitioning from various use modes for maximum flexibility and productivity.
The Latitude 12 offers a world-class ecosystem, including two keyboard options tailored for the professional's work style. The Dell Latitude 12 Slim Keyboard is full-sized, lightweight, well-spaced with backlit chiclet keys for effortless typing, and offers a full range of viewing angles. In addition, the Dell Latitude 12 Premium Keyboard single-handedly connects to the tablet, and features backlit keys and mouse cursor control with a high precision, gesture touchpad. With a slim 8mm screen, hardened Corning® Gorilla® Glass NBT™ and magnesium unibody build, and the only business 2-in-1 with a 4K UltraSharp™ UHD touch display, the Latitude 12 is an impressive and striking mobile device for the most demanding mobile professional.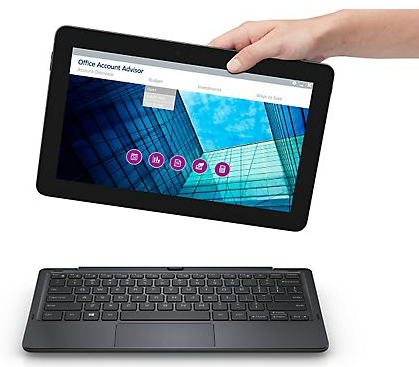 The Dell Latitude 11 5000 Series 2-in-1 is a thin and light 10.8-inch business-class 2-in-1 available with the world's best security and manageability features.
Designed with beautiful, premium materials including lightweight magnesium and hardened glass, the Latitude 11 is an eye-catching productivity tool guaranteed to please any business professional's taste. Starting at just 1.56 pounds, the 2-in-1 is a simple, portable device that provides a seamless transition between tablet and laptop modes with strong pen accuracy for capturing hand-written inputs via the optional stylus.
It offers IT and business professionals alike robust security and manageability capabilities, including comprehensive encryption, advanced authentication, cutting-edge malware prevention, and automated and streamlined system deployment, monitoring and updating.