BUY ONLINE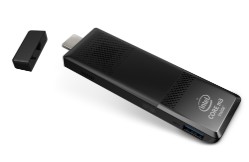 Building on the success of the Intel® Compute Stick introduced last year, at CES 2016 Intel unveiled new Compute Sticks based on 6th Gen Intel® Core™ M and the latest quad-core Intel® Atom™ processors.
A tiny device about the size of a pack of gum, the Intel Compute Stick can transform any HDMI TV or display into a complete computer and improves upon the first generation in processing and graphics performance, Wi-Fi and Bluetooth connectivity, and additional USB ports.
Both devices will be available in Q1 2016.
Read the Intel® Compute Stick fact sheet for more information.