BUY ONLINE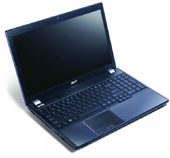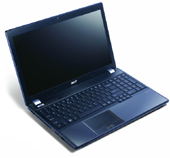 A professional notebook that stands out for the crowd. The new Acer TravelMate 5760 represents the perfect synthesis of productivity, security, efficiency and ergonomic design, with the added appeal of a touch of glamour.
Developing this notebook Ace made no compromises on performance. The TravelMate 5760 takes advantage of the second generation Intel® Core™ processor family with mobile Intel® HM65 Express Chipset ensuring smart performance that adapts to users' needs, giving a significantly faster performance to speed through demanding tasks and boost productivity, while saving energy.
In addition, these processors provide built-in capabilities for enhanced multimedia creation and enjoyment and with a compatible adaptor connected to an HD display the notebook can easily set up wireless presentations with seamless HD video playback, stunning image and sound quality. With this notebook presentations will be impressive as never before!
The TravelMate 5760 is also available with discreet graphic options. Featuring NVIDIA® Optimus™ technology, NVIDIA GPUs boost graphic performance without impacting on battery life. What's more, multi-monitor support takes productivity to the next level, allowing easier multitasking.
Acer takes the protections of users' data and valuable assets very seriously. This is why the TravelMate 5760 features robust security solutions. To secure the IT investment, protect data and reduce TCO thorough remote management features, the TravelMate 5760 comes with Acer ProShield Security, a suite of security and manageability tools integrated in a unified user interface. Acer ProShield features pre-boot authentication (PBA) and protects the notebook from BIOS level all the way to application level. It allows creating a Personal Secure Drive to store and encrypting all critical files, so that even if the notebook is stolen or lost the data cannot be accessed. Unwanted files or folders can be permanently removed beyond recovery thanks to the File Shredder utility. Finally, it offers the automated solution to manage IT assets remotely and on the go.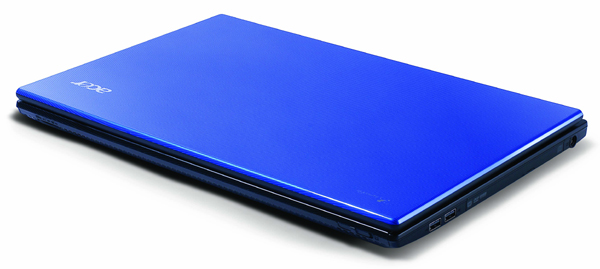 In addition, the TravelMate 5760 comes with Intel Anti-Theft technology and Absolute Data Protection (ADP) by Absolute Software. With built-in Anti-Theft technology, if the notebook is lost or stolen users can remotely delete files, freeze or lock it. During lock down the notebook is inoperable and access to encrypted data is disabled. Once the computer is recovered, it can be easily unlocked. Plus, ADP allows users to track their computer if it's lost or stolen.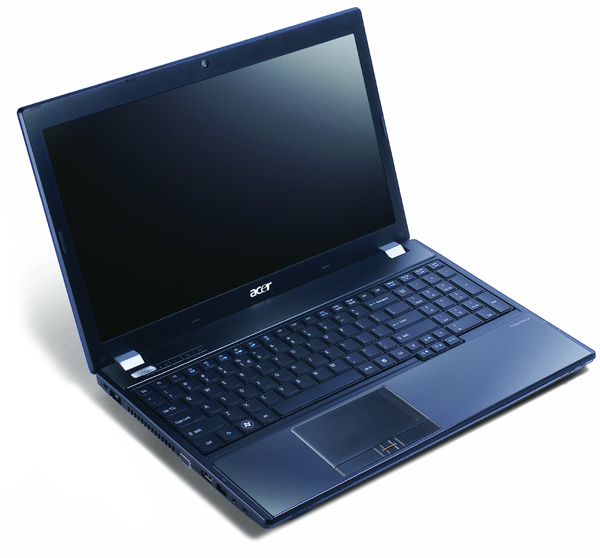 Through Acer Backup Manager the TravelMate 5760 keeps valuable data protected also from accidents or crashes, allowing to back up data and files at ease, while Acer eRecovery Management provides recovery on-demand for complete peace of mind.
The TravelMate 5760 comes with a 39.5 cm (15.6 inch) high-brightness LED backlit display with 16:9 aspect ratio offering clear visuals down to the latest detail. Plus, LED backlight display provides 33% more energy saving than the standard LCD screens.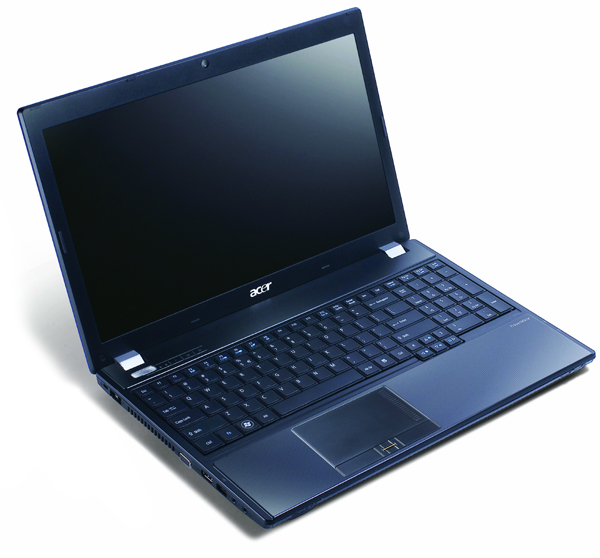 Every detail has been carefully designed to ensure maximum productivity and excellent ergonomics. The Acer FineTouch keyboard with extra key travel distance was designed for a more comfortable typing experience, plus it includes the numeric keypad. The unique key shape is designed to avoid mis-typing and the accumulation of the dust, while space and arrow keys have a convex shape making them instantly recognizable by touch. The oversized touchpad offers more precise control and next generation multi-touch permits to perform more functions. The engraved scrolling area ensures easier navigation. Productivity hot keys are designed to efficiently access frequently-used functions such as backup, application launch, volume mute, and wireless on/off switch.
Storage-wise the TravelMate 5760 can count on a spacious Hard Disk drive with up to 750 GB of capacity, providing ample room for storing ever growing digital archives while allowing the system to boot up and load applications faster. The DVD-Super Multi double-layer drive and integrated multi-in-1 card reader supporting the most used formats simplify data sharing and provide more storage options. These notebooks can also count on up to 8 GB of advanced DDR3 memory that dramatically increases data bandwidths allowing faster multitasking and lowers power consumption.
Reliable companions for everyday tasks, these notebooks are equipped with a full range of connectivity options: Gigabit Ethernet for ultra-fast wired connection, WiFi network connection supporting Acer SignalUp™ with Nplify™ wireless technology, Bluetooth® 3.0 (depending on configuration) and integrated 3G module, depending on the model. Keeping in touch with business contact and setting up videoconferences whenever you need is extremely easy with the Acer Video Conference solution that includes the Acer CrystalEye webcam, Acer Video Conference Manager software and integrated microphone.
All Acer professional notebooks are submitted to a series of reliability tests and are compliant with the most stringent criteria of the industry, thus ensuring the utmost reliability. On top of this they offer Energy Star® 5.0 compliancy together with EPEAT® Silver qualification, guaranteeing energy savings and longer battery life.
All Acer notebooks come with a standard 1 year Carry In (International travellers warranty - ITW) which can be extended to 3 years' cover with the Acer Advantage service that also covers accidental damage to the notebook.