BUY ONLINE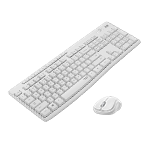 Logitech MK295
Logitech (SIX: LOGN) (NASDAQ: LOGI) announced the introduction of its MK295 Silent Wireless Combo, a durable and comfortable keyboard and mouse featuring new proprietary SilentTouch technology that removes 90 percent of typing and clicking noise from the Logitech MK270. The new combo, available in graphite and off-white, has the familiar typing and clicking feel of the world's best-selling MK270 combo from Logitech without the disruptive sounds for you and those around you.
"Whether you are working at home or in an office, we know that one of the biggest detriments to creativity, learning, productivity and even mental well-being is noise. Our SilentTouch technology in the new MK295 Silent Wireless Combo brings the focus back to your work and away from any surrounding distractions," said Delphine Donne-Crock, general manager of creativity and productivity at Logitech. "This new silent combo brings the familiar comfort and feel of our best-selling keyboard and mouse combo, without the noise!"
Key Features:
MK 295
Work with less distractions
Full size comfort
Comfortable and compact mouse
Lag-free wireless
36-month keyboard and 18-month mouse battery life
Spill-proof design & durable keys
The full size keyboard offers a spill-proof design, durable keys and sturdy tilt legs with adjustable height for an extra layer of utility and comfort. Its 36-month battery life reduces the hassle of changing batteries, so you can continue working with lag-free wireless ease.
The comfortable and compact mouse features a contoured shape with smooth, precise clicking and pointing, all delivered to you silently. Along with an 18-month battery life, the mouse includes on and off switches so it's ready to work when you are. Enjoy a strong, wireless connection up to 10 meters with Logitech's tiny plug-and-forget USB receiver.
Availability
All products are expected to be available in September of 2020. For more information please contact your ASBIS manager.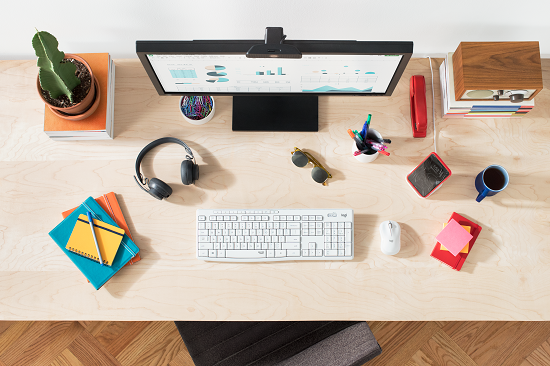 About Logitech
Logitech designs products that have an everyday place in people's lives, connecting them to the digital experiences they care about. More than 35 years ago, Logitech started connecting people through computers, and now it's a multi-brand company designing products that bring people together through music, gaming, video, and computing. Brands of Logitech include Logitech, Logitech G, ASTRO Gaming, Streamlabs,Ultimate Ears, Jaybird and Blue Microphones. Founded in 1981, and headquartered in Lausanne, Switzerland, Logitech International is a Swiss public company listed on the SIX Swiss Exchange (LOGN) and on the Nasdaq Global Select Market (LOGI). Find Logitech at www.logitech.com, the company blog or @Logitech.
Logitech and other Logitech marks are trademarks or registered trademarks of Logitech Europe S.A and/or its affiliates in the U.S. and other countries. All other trademarks are the property of their respective owners. For more information about Logitech and its products, visit the company's website atwww.logitech.com.